France44 is honored to have the exclusive release of a special beer made by Broken Clock Brewing Cooperative and Brewing Change Collaborative.
Brewing Change Collaborative (BCC) is a 501c3 MN Nonprofit organization whose mission is to foster Diversity, Equity, and Inclusion for People of Color in the brewing and beverage industry through advocacy, outreach, and education.  We'd love you to learn more about what these two Minneapolis organizations are doing locally to be agents of change.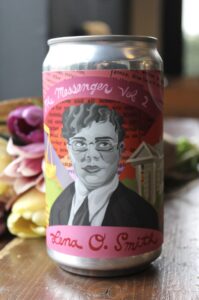 The Messenger Volume II is a DDH Sour Ale brewed with tamarind, guava, pineapple, coriander, sea salt, and sorghum.  This crowler is a full on sour ale.  The tart guava and tamarind really shine through.  Clocking in at 6.4% ABV with a medium weight body, this beer is straight up lip smacking and tasty.  But more importantly is message on the label; The Messenger V2 shares the stories about two women who fought their whole life against racism and inequality.  We'd love you to learn more about these amazing woman and how they participated in the movement.  Click the link to read the stories of Ida B. Wells & Lena O. Smith
Order online here: 750ml Crowler $9.49
VOLUME 2: THE WOMEN OF THE MOVEMENT
Ida B. Wells
In the late 19th century, publications such as the New York Times, prided themselves for being a paper of record, that was objective and dispassionate. However, they failed to recognize and expose the truth behind lynching. Instead of aligning themselves with the type of work that reflects their "values", they decided to attack Ida B. Wells, the person. For her courage, and her willingness to question lies and myths perpetrated about Black Men, in an editorial in 1894, the New York Times called her: "a nasty-minded mulatress."
In the podcast Backstory, Episode 185: Advocacy Journalism in America, historian and host Joanne Freeman asks her co-host and historian, Nathan Connelly: "… How much did Wells' work actually change the myths that were circulating about lynching?" In his response, Nathan points out that it took the big newspapers of that period decades to recognize Ida B. Wells' work, "Black Americans", he continues, "… recognized immediately that what Wells' was doing was digging up the truth."
There are striking similarities between the late 19th century and our modern times, in terms of our propensity to let popular stereotypes guide our behaviors, our beliefs, and our decision-making, without questioning or attempting to understand their origins or facts presented. Below are two recent examples of a couple of commonly held stereotypes against Black Women :
The Pre-Pandemic (March 2020) Bureau of Labor Statistics & Labor report shows that Women of Color have a higher unemployment rate than the national average (9.7% for Black Women vs 5.5% in national average). One prevailing, and false stereotype argues that's because, Black Women in particular, and Women of Color in general are lazy; a sentiment expressed by Oklahoma State Legislator Sally Kern, who is white, echoed this stereotype in 2011: "I taught school for 20 years and I saw a lot of people of color who didn't want to work as hard — they wanted it given to them […] women usually don't want to work as hard as a man" because "women tend to think a little more about their family."
Black Women aren't asking for handouts.
A Black Women decides to push back, to lead, to voice her opinion and advocate for herself and/or for others. She is called angry, threatening, and loud. This stereotype stems from 19th century minstrel shows.
In 2018, Serena Williams, one of the greatest athletes of our time was fined for breaking her racket and calling the umpire a "thief". The behavior was no different than most elite athletes who play at her level. The difference is this: in other white and/or male athletes' cases, they are called "passionate, competitive", whereas, in Serena Williams' case, she is called an "angry Black Woman".
The fact that we are willing to trust news reports, publications, or the Internet, blindly at times, without going beyond the headlines, highlights the importance of Ida B. Wells' pioneering work in investigative journalism. This has become even more important now that we tend to settle into our preferred corners and bubbles, defined by the news sources we frequent or our political leanings, which often only serve to confirm or reaffirm our biases.
Ida B. Wells' willingness to question popular opinion, invest time and resources to collect actual facts, and persevere despite being a minority and a lone voice, is an inspiration. Ida B. Wells believed that if she could present reliable facts, the truth would prevail. She was right.
Ida B. Wells was awarded a Pulitzer Prize in May 2020, for her outstanding and courageous reporting.
Let's honor Ida B. Wells, a forgotten Black Woman, by cultivating habits that she pioneered throughout her life:
(1) – Digging deeper than the surface, (2) – Allow our decisions to be guided by reliable fact, and (3) – Advocate for those who are unable to advocate for themselves.
Lena O. Smith
Have you ever walked into a professional networking group wondering if someone would look like you in the room? Or encounter individuals at work who do not think you even belong in the room with them? These questions are just some of the questions that faced Lena O. Smith during her career as a lawyer.
She moved to Minneapolis in 1906 with her mother and sisters from Lawrence, Kansas after losing their father. Lena was an entrepreneur who owned a beauty salon with a white woman. Following the salon she became a real estate agent, a profession that was widely known for its racial prejudice. Through her experiences as a businesswoman, especially as a realtor, she became motivated to change policies & behaviors from within the system.
Lena O. Smith became the 1st African American woman licensed to practice law in the state of Minnesota in 1921 and remained the only one do so until 1945. This was in our state's history when only a dozen white women were also licensed to practice law in Minnesota. She did not cower if she was the only one who looked like her in the room. It motivated her to change public habits so that every room would be diverse with individuals and opinions.
Lena took on civil rights cases with a militant drive to provide equal access to public accommodations for all people. She argued cases against White Castle & Nicollet in this endeavor. She helped bring change to the Pantages Hotel Theater when she and couple African American men were denied seating on the main level.
But perhaps she is more known for her work on behalf of Arthur A. Lee and his family when they purchased a home in a previously all-white neighborhood in South Minneapolis. While the Lee family was advised by a white attorney to sell their home to the neighborhood committee Lena fought for them. She ultimately fought for and protected their right to stay in their home.
Lena O. Smith continued her work in Minnesota as she helped form The Urban League in Minneapolis in 1925. In 1930 she became the 1st woman president of Minneapolis' NAACP.
We learn many lessons from Lena's work in the 1st half of the 20th Century. She teaches us to learn our history so that we can step back from our own settings and become aware of our own preconceptions. If we only see from one perspective we can never learn another's experience. It is in our diversity that we become stronger as a society.
Second Lena reminds us the importance of living in and working with community. Public interest is best attained when people live in the community they are advocating. Lena's home was just a couple of blocks from Arthur A. Lee and family. She understood the daily the harassment the Lee family faced and the beauty of the neighborhood. Lena's suit pant cuffs were dirty from the same dirt.
Lena fought legal cases not to change the law but to change the public's mindset. She understood the long-term work that was required to acquire justice. It is a lifetime commitment that continues today with each one of us. We continue Lena's work and honor her legacy to push the government to be more responsive to those without power or money. We live in community with one another getting our own pant cuffs dirty striving to make our community stronger.
We raise a glass to Lena O. Smith thanking her and honoring her by doing the right thing.
The beer you know as "The Messenger" is an amalgamation of two collectives; Brewing Change Collaborative (BCC) and Broken Clock Brewing Cooperative (BCBC)
Our organic union came about through the sheer desire to not only speak on the dissonance of America's penchant for white privilege/preservation and it's dearth of Black existence, but to ascend and become agents of change.
As the hours fall off the clock and time inevitably marches on we, BCC and BCBC will seek to voraciously create waves of change. From a point of beer into a barrel to a tsunami from the ocean washing across this entire industry, BCC and BCBC will create the iridescent reality we wish to live in.