by Bennett Porter
It's a wonderful time of year for beer lovers across America. The beginning of October brings with it a diverse selection of new releases – Oktoberfest lagers, seasonal stouts, barrel-aged brews of all breeds, and our personal favorite – wet and fresh hop beers! Depending on their variety and location, most hops in the US are harvested between mid-August and late September. The female hop cones have reached their full maturity and are ready to be picked. Once taken from the bine, wet hops are rushed to the brewers' hands as hastily as possible.
But first, let's decipher the terminology surrounding this style. You will hear multiple terms for these beers. Wet hop, fresh hop, and green hop are all common language used by breweries. Naturally, this leads to some confusion. The best way I can describe it is, a wet hop is always a fresh hop, but a fresh hop isn't always a wet hop. When you read the term "wet hop", it means that the beer was brewed with hops haven't been dried after picking and thus still retain a high moisture content. Fresh hop is the more confusing term, as there is not official consensus on its use. A few brewers will use the term "fresh hop" for a beer that uses un-kilned, "wet" hops. Others, such as Sierra Nevada (the godfather of these styles), reserve the term "fresh hop" for a beer which uses freshly-harvested hops that have been dried in the kiln. For example, Sierra Nevada Northern Hemisphere Harvest Ale is a wet hop, whereas Sierra Nevada Celebration Ale is a fresh hop. Despite their slight differences, you can always expect wonderful aromatic hop character in these beers!
What's with all the hype surrounding fresh and wet hop beers? In the early days of American craft brewing, these brews were a style mostly reserved to breweries located in close proximity to hop farms, i.e. those surrounding the Pacific NW. Today, hops are grown throughout the US and improvements in shipping methods and refrigeration have made the style a possibility for any brewery willing to work out the logistics. While the fresh, "green" character in these brews are delicious, it is the deeper symbolism – a connection from grower to glass – that brings the most excitement to the beer community.
Freshly harvested hops hold a moisture content of over 75%, containing volatile oils in their lupulin glands that can contribute bright, grassy and resinous characteristics. The chance to harness these aromatic oils in beer is extremely sought after by brewers, but it can be logistically challenging as wet hops can go bad in a matter of days. Most of the hop harvest will be kilned and dried to safely preserve the hops for use in the years ahead, either bailed as whole-cones, or turned into pellets. The choicest crop of wet hops won't need to be processed, but they'll be cared for diligently – heaped loosely in cooled, aerated boxes. Brewers collaborate with hop farmers to receive their shipments as quickly as possible.
Like their dried counterparts, wet hops can be utilized at any time in the brewing process: for bittering, late-addition, or dry-hopping. Because of their moisture content, it generally takes at least five times more wet hops by weight than dried hops to achieve similar results. Many brewers choose to use even more, as the hasty nature of their shipment doesn't allow time for hop farmers to calculate specific alpha/beta acid percentages and oil content – vital numbers that are typically critical in brew house decisions. In some ways, it's like brewing while blindfolded. Hops are very seasonally-dependent, and each year's crop will show different character. Wet hops can impart delicious grassy, "green" chlorophyll-like flavors into beer, but there's also a risk that these flavors can become overly vegetal, onion-y, or even tobacco-like. Sensory analysis – feeling and smelling the hops – is the best tool a brewer has, to extract the right flavors from the cones.
While a majority of America's hops are sourced from farms in Yakima Valley, hop farmers from the Midwest and Northeast are gaining notable respectability. Brewers have aided this by working with local growers, showcasing a farmer's hard work through brewing. Fresh and wet hop beers present a truly unique flavor experience, no other beer style is as perfectly coupled to the hop plant. Due to the nature of the style, these brews appear in blips, flying in-and-out of the cooler like shooting stars. Come get your hands on these unique brews before they're gone! Stay on the lookout for these France 44 favorites:
Surly Wet – $15.99/4pk
Coming back for only the third time in the last five years, this elusive and delicious beer is brewed with all Yakima-grown Mosaic hops for the first time ever. A West-Coast IPA by style, WET is meant to be consumed as fresh as possible! Grassy overtones with notes of tangerine and papaya. This beer is DANK! Currently sold-out but we're expecting more this coming Tuesday (hint, hint).
Indeed Fresh Hop Pale Ale – $10.99/4pk
Available in cans for the first time ever! Freshly-picked Mosaic hops are kilned and shipped directly from Yakima Valley to the brewery to go into this vibrant, juicy pale ale. Aromas of blueberry, citrus and melon. Dank, resinous flavors get compacted into a crisp body with a hint of stone fruit and pine on the finish. Now that's sticky icky!
Sociable Cider Werks Wet-Hop Hop-A-Wheelie – $9.99/4pk
Our favorite hopped-apple cider now comes with CTZ and Centennial hops grown in Ham Lake, MN at Mighty Axe Hops! Grassy, floral hop aromas dance atop a finely-acidic, dry cider. Quite quaffing I might say! Look for the shiny silver Mighty Axe sticker on top of the four packs.
Castle Danger Mosaic Fresh Hop IPA – $17.99/4pk
Castle Danger opened in 2011 and has quickly risen in status as one of Minnesota's most respected breweries. This farm-fresh Mosaic hopped IPA bursts with notes of tropical fruit and mouthwatering juiciness. Be on the lookout for this brew in the coming weeks.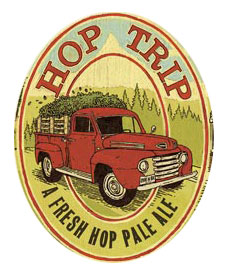 Deschutes Hop Trip Pale Ale – $9.99/6pk
Because of Deschutes' location in Bend, Oregon, this brew uses hops that were harvested mere hours before entering the kettle. Hop Trip captures tons of floral, herbal hop aromas and a punch of juicy, grapefruit-like notes on the palate. Be on the lookout for this brew in the coming weeks.
Sierra Nevada Northern Hemisphere Harvest Wet Hop IPA – $14.99/6pk
The original wet hop ale that began this whole craze in the first place. Hops harvested right from Sierra Nevada's own hop farms reach the brew kettle in less than a day. Precious oils and resins contribute intense herbal, green flavors and bright citrus overtones. Be on the lookout for this brew in the coming weeks.