"In cities across the country, people of all races, nationalities and religions are joining hands to truthfully acknowledge a period in our history that shaped and continues to influence our society today." –juneteenth.com
Juneteenth is far from being a "new" commemorative holiday. It was first celebrated in 1865, but had to wait until just last year to become a federally recognized holiday. Established originally to commemorate the ending of slavery in the United States, today it stands as a day of remembrance and emphasizes education and achievement for Black Americans.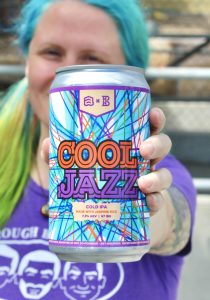 There's plenty going on in Minneapolis and St. Paul to honor Juneteenth, so bring Dad and the family to a Minneapolis or St. Paul event to combine Father's Day and Freedom Day into one epic Sunday! And at the end of all the fun (or in the middle of it), make your celebration libation count too: support local Black-owned businesses like Lovejoy's Bloody Mary Mix, DuNord Distilling, or one of our particular favorites this summer: a beer collaboration between Arbeiter Brewing and Brewing Change Collective called Cool Jazz Cold IPA.
Cool Jazz is a cold IPA made with Jasmine rice and Azzaca, Chinook, and Zamba hops. Cold IPAs are a bit lighter and drier than a typical West Coast IPA, and the twist here is that they also use lager yeast, making this a "best of both worlds" IPA/lager style: it's clean and light like a lager, but has enough hop flavors and aromas to pack it full of flavor. A great New School take on an Old School style!
The mission of Brewing Change Collaborative is to foster diversity, equity, and inclusion for people of color in the brewing and beverage industries through advocacy, outreach, and education. BCC has been doing incredible work in making the Minnesota brewing scene more diverse and inclusive since early 2019.
We've been fortunate to get to know the folks at BCC over the past two years and have partnered with them to provide entrepreneurial mentorship programming and project funding. We're honored to be a part of the incredible work they're doing in Minnesota and beyond, and we couldn't be more excited for the big new changes to come for them.
We can't think of a better way to spend this Sunday than engaging with your community with family and friends. Choose an event to go to, support local Black-owned businesses, and continue the conversation about diversity, inclusion, equity, and putting an end to racism.
"Sensitized to the conditions and experiences of others, only then can we make significant and lasting improvements in our society." –juneteenth.com