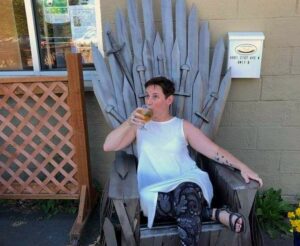 How did you find your way to France 44? What do you do here and how long have you worked here? 
I've been working at France 44 as our Human Resources Manager and Cider Expert for almost six years. Before working at France 44, I had worked for many years in non-profits, as the Executive director of several, and I ran my own Math and Reading Center. I was looking for a change and new challenge, and decided to look into working in a liquor store. The HR position opened up and I decided to go for it!
What do you like to do when you're not working? 
I love to read. I escape reality in books, sitting on my porch swing. I read a lot of fiction, and my favorites are the books in the "Name of the Wind" series.
How did you get into cider? What do you love about cider? 
Today is the 9th anniversary of the day I found out I had celiac disease. I was a big beer drinker before, and was looking for an alternative with a similar alcohol content. The first cider I tried was the Milk and Honey Heirloom cider, and it changed my life. I fell down the rabbit hole and didn't look back. I love the diversity of ciders, and the fact that two cider makers can take the same apples, and make such distinctive, unique products. But most of all, I love the community. I am a part of online groups, the Minnesota Cider Guild, and attend Cider Con every year. I'm also the cider expert for a local news station in Rhinelander, Wisconsin (WJFW), was named the 2023 Midwest Pemellier of the Year, and helped France 44 become a top Midwest off-premise cider sales location.
Ok tough question – what is your favorite cider?
Milk and Honey Heirloom reigns supreme!
What do you want people to know about cider?
First of all, IT'S CALLED CIDER, NOT CIDER BEER!
But also, it's not all sweet. Cider can taste like fresh apples, can be dry, can be sparkling or still; there's something for everyone. I hope that more people will be open to trying it!