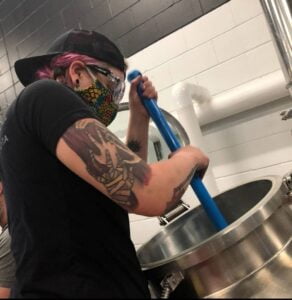 by Kayla Tyler
Lagern: German "to store."
When I think about lagers, my mind instantly buzzes. I geek out about the process it had to go through, with a cooler fermentation than an ale at a comfortable Minnesota temperature of 42-55℉. Lagers ferment slower than ales and because of that, the flavor profiles are cleaner and crisper. Lagers originated in Bavaria, Germany around the 16th century. They were brewed either in caves or cellars dug into the limestone hillsides. Much like us hardy Minnesotans, the yeast in these cellars adapted to the cold, creating a unique strain which would later be named Saccharomyces Pastorianus.
By 1810, lagers made it to North America by way of German immigrants following the Civil War. Some of the top brands of that time are still around today like Pabst, Schlitz and Busch. They adapted their own lager versions with what North America had growing, and the rest was history!
I find lagering to be a form of beer maturation very similar to my energy during the cold winter months: slow, methodical, and near freezing. It's like lagers and I are basically the same! Lagers are ingredient-driven: the traditional focus of lagers are primarily on the malt, along with the activity of the yeast when it's fermenting. If the yeast activity is too high, you end up with fruity esters in your beer. The old saying, "Slow and steady wins the race" is really what makes a great lager.
One misconception of Lagers is that they are all the same color. That is simply not true! Lagers can be a variety of colors, from black to pale straw. The color and most of the flavor in beer depends on the malt, ranging from crackery, bready, toasty, and roasted to displaying gentle bitterness from the noble hops. The fermentation characteristics help take out the fruitiness and leaves you with a classic clean, crisp taste. There are a few lagers that can also be heavy, like Doppelbocks, Marzenbier, or even smoky and meaty like a Rauchbier.
Next time you stop at France 44, be sure to try these selected local varieties with different color and flavor profiles that I love in Lagers:
Arbeiter and Niko Tonks from Fairstate Collaborative Vienna Lager | $9.49/750ml crowler | Arbeiter has been brewing some of my recent favorite lagers and ales and Fairstate is currently our top selling brewery in the store, so it only made sense to pick this Vienna Lager. At a modest 4.8% ABV it is super crushable–a dark, gold-colored beer with a caramelly, sweet toast, cookie characteristic balanced by hops.
Utepils Helles Lager | $9.99/4pk cans | Utepils is another brewery that is also doing European-style brewing, so this Munich-style lager at 5.1% ABV is both rich and light with a hint of caramel and a soft finish. Also super crushable, this beer is sold in 16oz 4pks for $9.99 and 12oz 12pks for $16.99!
Schell's Bock | $9.99/6pk cans | Schell's has been around in Minnesota for a very long time, before the 1860s. August Schell co-founded this brewery and it has been knocking out solid beer since. This German-style dark lager is best consumed in the wintertime at 6.5% ABV with a rich flavor and robust, full-bodied malt character. The color of this hefty lager is dark amber to almost black.