As a historic freeze firmly grips the Midwest, glacial evenings like these are a good occasion to cozy up to the fireplace with a thick, fuzzy blanket and a glass of unctuous, dessert-like beer—a little something soul-warming, that's meant to be savored slowly. You deserve it. Bundle up, put on your good slippers and come grab some of these winter sippers. Hibernation should be enjoyable, right?
Lift Bridge Commander Barleywine Ale—$9.99/12oz
A personal favorite. Aged in freshly-emptied Heaven Hill barrels, Commander soothes your palate with a big, malty embrace from copious amounts of Maris Otter, wheat, biscuit and crystal malts. This barleywine pays homage to its English ancestry with sweet, caramelized malt notes that would make J.W. Lees proud. Hints of sweet cardamom, vanilla, candied orange and bourbon. Enjoy it now or sometime in the next ten years when we get another deep freeze.
Harviestoun Ola Dubh 10th Anniversary—$14.99/330ml
Pronounced Ulla Duv, meaning "old oil" in Gaelic. The 10th Anniversary edition spent two full years in Highland Park 12 year single malt barrels, three times longer than the flagship Ola Dubh lineup. This extra age imparts deeper layers of peat smoke, dark fruit and woody characteristics. Slainte!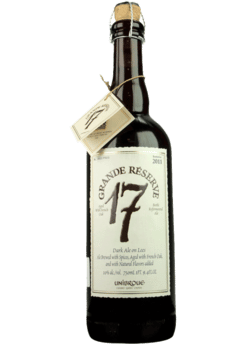 Unibroue 17 Grande Réserve Strong Dark Belgian Ale—$12.99/750ml
First brewed to celebrate Unibroue's 17th anniversary, it was so well received that the brewery brought it back as an annual vintage release. A full bouquet of roasted malt, spicy yeast notes, and vanilla dance atop the sustained, fine-beaded head of foam. The flavor has roasted mocha-like notes, with hints of fig, raisin, cherry, tobacco and French oak. Extremely complex yet simply enjoyable. The finish lingers like a fine wine.
Boulevard Whiskey Barrel Stout—$14.99/4pk
Massive whiskey barrel aromas leap from the glass of this imperial stout. Rich vanilla and chocolate notes suggest an overpowering flavor, but it is surprisingly balanced. The barrel-aged beer is blended with a smaller portion of freshly-brewed imperial stout right before bottling. All the flavors meld well on the palate and remind me of German chocolate cake. An amazing value for this level of barrel-aged stout.
Milk & Honey Alchemy Ice Cider—$19.99/375ml
Pressed from locally-grown, frozen chestnut crab apples and then aged in bourbon barrels for two-thirds of a year. Succulent flavors of candied apple, caramel and vanilla are balanced by a prevailing acidity that brings everything into harmony.