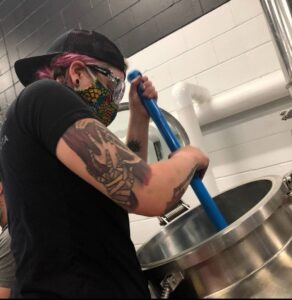 by Kayla
International Women's day became recognized as a historical day in 1911, after over 15,000 women marched in New York demanding shorter working hours, better pay, and the right to vote. Clara Zetkin was the woman who inspired the creation of International Women's day. It was at a conference in Copenhagen in 1910 where 100 women from 17 different countries voted unanimously to dedicate this day. It was first celebrated in Germany, Austria, Denmark, and Switzerland. The United Nations first celebrated theirs in 1975. International Women's Day continues to be a great opportunity to both celebrate our successes and raise awareness to the work that still needs ot be done to combat gender inequality.
In the world of beer, women have historically been associated with brewing long before men even stepped foot in a brewhouse! Artifacts and documents have been found that show women have been brewing as far back or further as Cleopatra in the Egyptian era. I myself have helped brew three beers from three of Minnesota's best breweries alongwide a handful of folks from Witch Hunt Minneapolis, which is a 501(c)(3) non-profit to help people with marginalized genders and queer folks in the beer industry learn about beer. In addition, the iconic Pink Boots Society has been around since 2007, inspiring and encouraging women and non-binary individuals in the fermented and alcoholic beverage industry to advance their careers through education.
To celebrate International Women's Day, I wanted to highlight some women-owned breweries we carry at France 44. Currently, we carry three women owned and founded breweries: Finnegans Brew Co., Urban Growler Brewing Company, and Utepils Brewing.
Jacquie Berglund is the CEO of Finnegans Brew co. and founder of Finnegans SBC, the world's first brewery to donate 100% of their profits to fund fresh produce to those in need. She's raised awareness about food security in communities all across the Midwest, awareness about local hunger issues, earning her prominent accolades over the years for all her passion and efforts. Finnegans opened its first brewery and taproom in 2018 in East Town Minneapolis creating all sorts of fun beers! Currently in our store we have a few Finnegans products but their Flagship Irish Amber comes in 6pk cans.
Urban Growler Brewing Company opened up in July 2014 by two women, Deb and Jill. It's the first women owned microbrewery in Minnesota that has a mission to bring people together through beer. Deb is the master brewer and Jill runs the marketing, taproom and events. They traded their careers in corporate America and sales to pursue their passions in beer. However, 12 banks denied them funding for their brewery, so they traveled all over the country visiting tap rooms, getting jobs in the industry, and did a ton of work. They eventually raised enough money to make Urban Growler Brewing Company a reality! Currently in our store we carry their iconic Cowbell Cream Ale in 4pk 16oz cans.
Utepils was founded by Deb Justesen who at age 8 who gave her mom a mothers day card that iconically says "Mothers day is almost here; so it must be time to have a beer." Ever since then, she's jumped right into brewery ownership, being the lead creative person. We carry a few Utepils beers, but today they released a beer as a part of the Nevertheless Series, celebrating women in Minnesota Brewing called In All Places. It's a 5.6% ABV Brown Ale with a very important message: "A woman's place is in the brewhouse".