Fruit and acidity are often discussed when evaluating a bottle of wine, and the same can be true for beer! As sour beers surge in popularity, these two components are more frequently entering the conversation alongside the fundamental flavors and aromas derived from hops, malt and yeast. The sour beer category encompasses a wide range of styles and flavor profiles—some rooted in tradition, others fueled by experimentation. Increasingly, they are benefitting from the bright, flavorful addition of fruit.
Fruited sours are perfect beers for summer, for the same reason that rosé wine becomes super popular in warmer weather. Enticing aromas, fresh fruitiness, and quenching acidity combine in perfect harmony to keep you cool and refreshed. So what're you waiting for? Check out some of our favorite fruited sours next time you stop by!
Fair State BBRR (Blueberry Blackberry Raspberry Roselle) — $15.99/4pk Cans
Fair State took their already-popular hibiscus kettle sour and added an unfathomable amount of berries to create a juicy, jammy sour that seems to disappear in your glass just like magic!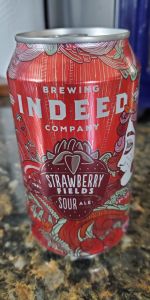 Indeed Strawberry Fields Sour Ale — $11.99/4pk Cans
Originally a collaboration with Colorado's New Belgium Brewing, this strawberry kettle sour has found itself a permanent sour patch in Indeed's annual release calendar. Bright jammy aromas and a punch of fruit lead to a dry, lightly tart finish.
Pryes Royal Raspberry Sour Ale $11.99/4pk Cans
A delicious take on the Berliner-weisse style that combines delicious notes of raspberry and a hint of passion fruit. This royal beer can be enjoyed by any class
Schell's Starkeller Binary Storm Boysenberry Berliner-Style Weisse — $17.99/750ml
Schell's Starkeller Brewery has low-key been making some of the best sours in the Midwest. Binary Storm is no exception. Aged on a whopping 5,000lbs of Michigan boysenberries in cypress wood foudres, it pours a vivid purple hue and opens with sweet floral and fruity aromas. Jammy berry notes and an invigorating effervescence make this brew crazy delicious.
Mikkeller Passion Pool Passionfruit Gose-Style Ale — $14.99/4pk Cans
It's a Gose-Style Ale with Passionfruit and Sea salt, what's not to like? Hop in the pool!