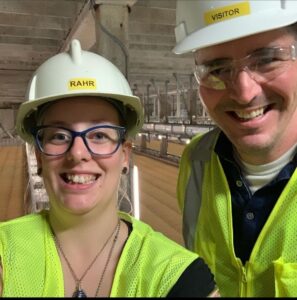 by Kayla
Malt is one of the most essential ingredients in beer. In my last blog, I wrote about bacteria in beer, and how it's responsible for some of your favorite sours. This time we're talking about malt, because it's really the unsung hero of beer, and is usually overlooked when compared to hops. The average beer consumer is seeking out the latest hop variant, and we can all trust our own favorites from Yakima Valley in Washington and Willamette Valley in Oregon. So, let's give malt a try. I promise it's just as exciting!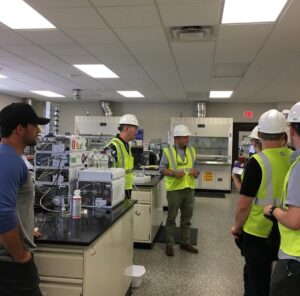 Locally in the malt world, Rahr Malting Company has been running the show in Minnesota for over a century. Rahr was founded on Lake Michigan in 1847 by William Rahr, and is currently located in Shakopee, MN by the 5th and 6th generation of the Rahr family.  I had the privilege of touring the facility, and saw the process that barley goes through to become the grains that are used to make your favorite beer. I am beyond grateful for the experience and seeing how much care goes into the process of getting to the beer you love. 
In Germany, Weyermann® Malt is 4th-generation-run by Sabine Weyermann and has been in production for over 140 years in Bramberg, Germany. They are currently one of the largest European malt suppliers in the US. 
IREKS also in Germany was started by Johann Peter Ruckdeschela in Kulmbach, Germany over 160 years ago. Currently IREKS is run by a group of family companies. 
 Other maltsters are Country Malt Group, Briess, and Simpson to name a few. A maltster is a maker of malt for grains used in brewing and distilling. They work with the farmers that grow the barley, and the microbiologist at the brewery as well as the brewer.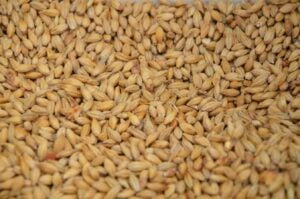 So why are maltsters and what they do so important to beer? Malting separates the starch from the barley and has to go through 3 stages so it can be used in brewing: Steeping, germination, and then kilning. 
Steeping takes 2 days and it's a process that soaks the grain in water on and off for 8-hour intervals. It helps activate the enzymes that help the roots of the barley (called 'chits') to become more visible and ready for germination. 
Germination is the second step and this removes the barley from the water and keeps it moist for another 3-5 days. It sits in a giant bed that every so often gets sprayed to keep it from drying out, allowing the endosperm to convert to a soft, chalky form. After this process is done it's time for it to be kilned. 
At the kilning stage the barley is "green." It's kept at 176℉ for about 2-4 hours, which helps to preserve the nutrients for fermentation, making the enzymes dormant and stopping the modification. Now, it's up to the maltster to decide the flavor profile of the malt and pick how dark or light the malt is going to be. There are way too many possible malt varieties so since it's Oktoberfest season, we'll talk about German malts, which is a preferred malt for making your favorite Oktoberfests. 
My two favorite malts are Munich and Vienna German malts. Weyermann® and IREKS come to mind, and are also in some of my personal favorite Oktoberfest and Festbiers. The top three beers in no particular order that I think you should try with these malts are: 
Lupulin Oktoberfest Mӓrzen Style Lager | Big Lake, MN | $10.49/4pk | The malts they use are Ireks Vienna, Ireks Munich, Prairie™ German Pilsner (Cargill Salzgitter), and Weyermann® Caramunich 3 (a hybrid of Caramel and Munich malt). This beer comes in at 5.5% ABV. The richness of the malt really shines through and gives it some depth. I love mӓrzen style beers because the combination of the kilned malt and the specialty malts give this beer the toasty aroma with a rich taste. This beer reminds me of when the mid months of fall are here, and the leaves are just starting to fall. All of us Halloween geeks are preparing our costumes and looking forward to the spooky season.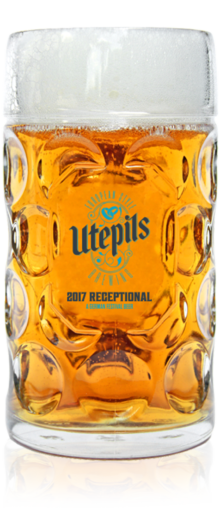 Utepils (Ooh-ta-pilz) Receptional German Festbier | Minneapolis MN | $8.99/4pk | The malts they use for this beer are Weyermann® Pilsner and Munich malt. Coming in at 5.9% ABV, this Festbier is pretty drinkable for being almost 6% ABV. The beer is light and refreshing, with a cracker ,pretzel, and biscuit malt flavor. It's perfect for the beginning of fall when it's still kind of warm outside and you want to have a fire, or sit outside and enjoy the changing of the seasons. I get excited when I see this beer, because it reminds me that fall is just around the corner!
Schell's Oktoberfest Mӓrzen-style Festbier | New Ulm, MN | $9.99/6pk or $15.99/12pk | The malts they use are Pale, Munich, and Vienna. Coming in at 5.8% ABV, it's pretty similar to the Lupulin. The malt character has some depth, rich, and smooth, except they use Pale malt instead of Pilsner. This beer would definitely be perfect for a great Labor Day weekend to celebrate that fall is on its way!