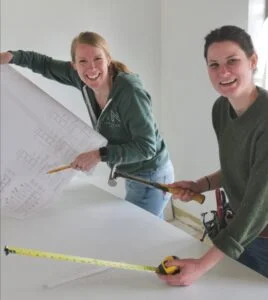 Hello, friends! Karina and Hailey here to give you all of the information you could possibly want about the Events space: where we're at with construction, what the new event programming will look like once construction is complete, and what we've been busying ourselves with in the meantime. Spoiler: we have some pretty cool things brewing! 
Where we're at…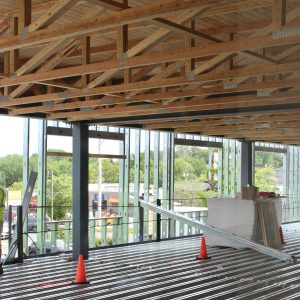 After months of holes being dug, and filled, and dug again… we are finally seeing some serious construction progress. If you've visited the store lately, you've no doubt noticed the changes over the past several weeks. This week, we have really begun to see the Events space start to take its more proper shape. We finished the drainage rough-ins, studwork, and trusses, and the plywood is being completed as we speak. In the coming weeks, we'll start to pour concrete on the first and second stories and start on the interior work.  
The big, need-to-know construction update is that from August 15-26th we'll be redoing our parking lot – meaning the parking lot will be completely unavailable from August 15-18 and August 22-25 (thankfully, we'll have the lot back temporarily for the weekends those weeks). The good news: once this is finished, our new parking lot will be fully complete and we can finally return to normal use of the full-sized lot.  
We're keeping the worst of it to the slower weekdays and are working on some creative ways to ensure you can still get the goods during those times. Plus, the Events Team will be onsite for a No Parking Lot 'Fun Times' Party on August 17-18 and August 24-25 from 3-7pm as a massive thank you to those that power through the brunt of our parking lot woes. Things to look forward to will include:  
Free wine and beer samples

 

France 44 Events merch

 

Extra bike racks – and a free Cheese Shop cookie if you ride your bike or walk to the store!

 

A Double Points "stock up" event the weekend prior (August 11-14)

 

Extra curbside service with easy-to-order grab and go bundles and curbside phone ordering

 
---
Alright, enough about construction… What exactly will the space be used for, you ask? So many things!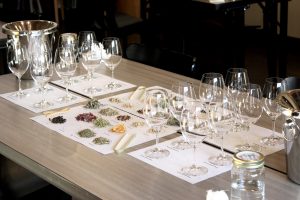 CORPORATE BOOKINGS // One of the most exciting things about the Events space is that it grants us the opportunity to expand our offerings to our corporate partners beyond our current off-site catering. And, because we have such versatile offerings in terms of rooms and spaces, we pretty much have the capacity for anything and everything (within reason, of course).  
The lounge and patio will offer a beautiful backdrop for entertaining clients and staff members alike, in a casual, relationship-oriented setting. Book either (or both!) for a simple, casual happy hour; or go for a themed tasting with cheese plates and appetizers to pair. We'll even link you up with one of our certified Sommeliers or Cheese Mongers for an educational component if you so wish. 
Beyond expanding what we'll be able to offer for our public classes, the new-and-improved classroom will also be the perfect setting for corporate team building sessions. Develop closer relationships within your team through experiential and hands-on activities, and engage in some friendly competition! Learn to make your own batch of vermouth from scratch, create the perfect cheeseboard, or dive into the classic cocktails and their many variations. Here's a little secret, too: come 2023, we'll also add pizza making to the docket. 
PRIVATE EVENT BOOKINGS // One of our core values at France 44 is our continued connection to our neighbors and community, and we are incredibly excited to further that connection by opening our space to our lovely neighbors. Whether it be for a graduation or birthday party, or you're just looking to have a good time with friends and loved ones without the stress of hosting in your own home, we're here for you!  
Party on the patio for cocktails and appetizers before moving into the classroom to enjoy family-style platters (courtesy of our always on-point in-house Catering team); host an intimate happy hour and cozy up at the fireplace in the lounge; or book a private tasting with friends and be spoiled with a selection of wines that you never knew you ought to be drinking. 
We'll also be hosting a few pop-up events in the early days of the Events space, as we get our feet on the ground. We'll be sending out more info in the coming months for a slew of ticketed events in the new year, beyond our usual public classes.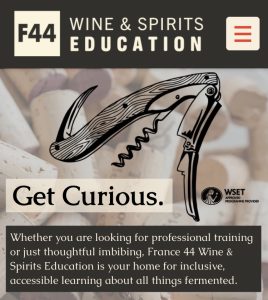 PROFESSIONAL CERTIFICATION COURSES // It's been a "tightly kept secret" that we've been working hard over the past year to expand our educational offerings at France 44, and we could not be more excited to share that we are officially an approved Wine and Spirits Education Trust School! 
For those who are not familiar with it, the Wine and Spirits Education Trust (WSET) is one of the leading organizations for certifications in wine, spirits, and sake. There are WSET schools around the world, from Shanghai to London to Chicago, but we are very excited to be one of only a few in Minnesota. Our public classes have always been a core component of our business, and our WSET school will expand that to a more professional level. That said, whether you're looking for professional training or just thoughtful imbibing, the door will always be open to industry folk and enthusiasts alike who are looking to expand their knowledge. After all, education is the dividing line between an intentional drink and a mindless one.  
We'll start out by offering Level I and Level II Wine, but Level III Wine (along with Level I and Level II Spirits) will soon follow. Keep an eye out for informational sessions via zoom and small in-person groups, and sign up for our mailing list through the France 44 Education homepage to stay up to date on course announcements and other goings on.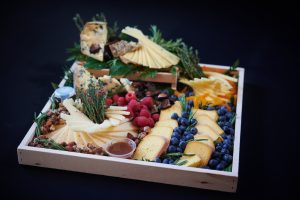 IN THE MEANTIME…
You might be left wondering what exactly the Events Team has been up to during all of this construction – yes, we've been putting on a few off-site events here and there, but we've also been focusing on the catering side of our business in the meantime. Our main takeaway? Wow, is there a lot of hard work and love that goes into creating and sourcing all of the beautiful items on our catering menu. From our whole-animal butchery that is responsible for everything from our house sausages to our gyro meatballs, to our catering chefs who lovingly put together all of our artful cheese and charcuterie boards by hand, to our off-site group manager who helps curate the perfect food and beverage menu for your event and coordinates the staffing to boot… Sure, we may be a bit biased, but we really do have an extraordinary team, and it's thanks to them and all of their hard work that we are able to have such special food & beverage offerings.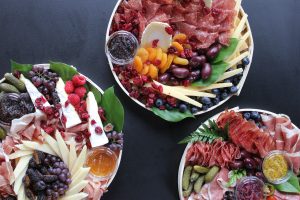 So, if you're as impatient as we are for the Events space to open, take advantage of what our catering team has to offer! If you haven't caught the theme yet, flexibility is kind of the name of the game for us: we can easily accommodate groups large or small, most dietary restrictions, and we have an incredible Sommelier team available to help with any staffing needs you might have as well. Check out our catering menu here, and for in-home or off-site events with Sommelier services, shoot us an email at catering@france44.com to chat through our options.