By Hailey
If there's one thing that lumps everyone at France 44 together, it's that we're all nerds. In some way shape or form, we all have something that we could talk your ear off about. As you'd assume, it's generally something to do with wine, beer, spirits, or cheese. And honestly, there are worse things to know an embarrassing number of random facts about. The perk for all of you – our faithful and lovely clientele – is that we are also eager to share our know-how with you. Those of you who follow us closely are aware that through the summer, we've been partnering with various museums and event spaces to put on some stellar off-site events, sharing our breadth of knowledge and factoids with you. We took a couple week's breather in August, but we could not be more excited to announce our newest partnership with The Museum of Russian Art (TMORA)!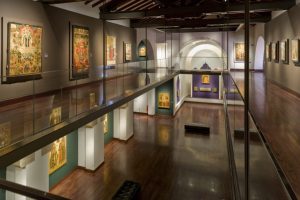 Let me just start by saying that if you haven't visited the museum before, you are truly missing out. The building was built in a Spanish Colonial-Revival style, with impressive arches inside and out, Romanesque windows, and stone carvings throughout the space. This dramatic architectural design can be explained by the fact that in a previous life, the building housed a church. Even with the soaring ceilings, though, the space makes for a surprisingly warm and cozy environment. 
TMORA took over its current building in 2005, and has since developed into what is believed to be the largest privately owned collection of Russian Realist paintings outside of the Soviet Union. The work spans beyond just realism, with rotating exhibitions that feature modern and abstract pieces from Armenia, Azerbaijan, Belarus, Estonia, Georgia, Kazakhstan, Kyrgyzstan, Latvia, Lithuania, Moldova, Russia, Tajikistan, Turkmenistan, Ukraine, and Uzbekistan. In addition, the Museum maintains a room devoted to the work of émigré artists from those countries, with a special emphasis on artists living in Minnesota.
We will be working with TMORA for a four-part series of classes from September to December. These events will grant you after-hours access to the full museum and all of its exhibits, as well as an hour-long class complete with wine samples and cheese plates ala France 44's Cheese Shop. Each evening has an admittedly geeky theme for us to deep-dive into together, with the series coming to a close with a Champagne and Caviar Extravaganza just in time for the New Year.  Read on for more details on each class – we hope to see you there!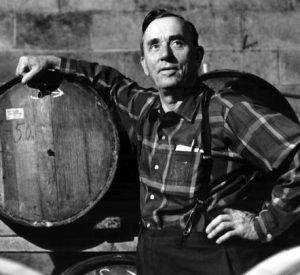 Our first of the series will focus on Dr. Konstantin Frank, one of the most influential figures in North American wine. Russian-born and Ukraine-raised, Frank helped to shape the grapes and styles of Finger Lakes wines. If you're looking to try domestic wines that are produced in a more European style, this class will be an eye opener for you! We'll taste a flight of Finger Lakes wines while discovering the many ways his legacy impacted the domestic wine industry, what in the heck trockenbeerenauslese means, and why you should be drinking more East Coast wines, all while basking in the Museum's gorgeous art collections.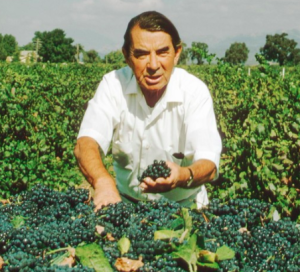 For our second class of the series, we'll spotlight André Tchelistcheff — AKA "The Winemaker's Winemaker." This Russian-born winemaker helped to shape the wines of California and Washington as we know them today. Through his legacy of peer-mentorship as well as his development of some of today's most widely used winemaking techniques, Tchelistcheff played a key role in establishing North America on the wine map. We'll guide you through a variety of wineries that his influence directly touched, and learn how his role in the 1973 Judgement of Paris helped to positively change the trajectory of domestic wine.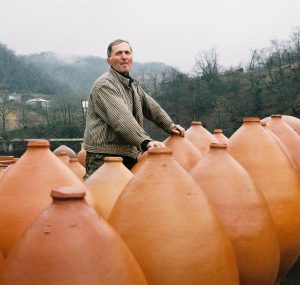 The third class of the series focuses on one of the most ancient winemaking regions in the world: Georgia. After perusing the museum with a welcome beverage in hand, you'll taste through a flight of Georgian wines in the main exhibition of the museum. We'll explain how their generational wine techniques persevered through the Soviet era, what a Qvevri is (and how many people can fit inside the largest ones), and why fermenting wine underground leads to some of the most complex and interesting wines.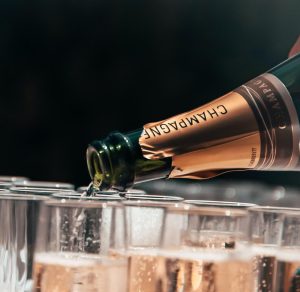 We're capping off the series with a bang! Champagne and Caviar. Need we say more? We're taking more of an experiential approach for the final installment of our partnership with TMORA, leading you through a luxurious tasting experience of what is perhaps the world's best food and wine pairing. Your ticket will get you samples of six of our favorite champagnes, accompanying small bites, and, of course, caviar (roughly 15g caviar for each guest). As you taste, you'll learn about the history and production process of Champagne, and discover why it is such a magical pairing to this iconic delicacy.