You know exactly where your favorite gin is located on the shelves. You inadvertently make a beeline to your tried-and-true brandy as soon as you come in the store. You get flustered when your staple vodka has relocated to a different section. But there's another part of you that's always looking out for something new, different, and a little off the well-worn path. Liquor Tom is the perfect guy for this job, and he's unearthed a few hidden gems to bring some pizzazz into these dreary winter doldrums!
Letherbee Autumnal Gin | $34.99 750ML
A France 44 favorite, Letherbee Distillers out of Chicago releases two
one-off seasonal gins per year, one in the spring and one in the fall—and they never release the same one again. This year's Autumnal prominently features earthy flavors of dill, cumin, beets, caraway, and black pepper on top of their already-floral original gin. These fall flavors make for a hybrid gin verging on aquavit, the Scandinavian staple Minnesotans love oh-so-much. We've already sold out of Minnesota's allocation and have now received a slice of California's allocation. This earthy gin is perfect for a Bloody Mary, Hanky Panky or a Dirty Martini!
Cocktail: Classic Dirty Martini
Stir and strain into a coupe glass, and garnish with 3 Filthy Bleu Cheese Olives.
Copper & Kings Craftwerks Sierra Nevada Smoked Porter Finished | $49.99 750ML
Copper & Kings has been producing high-quality craft brandy out of
Louisville, Kentucky for nearly a decade, and have started to create some of the most unique spirits on the market today. Last year they started to release collaborations with breweries around the country, where they send each brewery brandy barrels for them to age beer in. The breweries then send the barrels back to Copper & Kings, who then finish their brandy in the now-twice-used barrels for a whole calendar year. Our favorite was their brandy finished in Imperial Smoked Porter barrels from Sierra Nevada. It shows creamy malted vanilla tones, a slight hint of hoppiness and a lingering smoky note. It's a brandy with scotch and bourbon tones that's a beer drinker's delight!
Cocktail: Stick it in a glass on the rocks and drink it!
Or a Brandy Manhattan
Stir and strain into a coupe glass
Glenfiddich 14 Year Old U.S. Exclusive | $44.99 750ML
Great Single Malt Scotch at a good price is becoming harder and harder to come by. That's why it was a breath of fresh air for Glenfiddich to come out with a 14 year Single Malt, aged exclusively in bourbon barrels and finished in newly charred American oak as an homage to our bourbon culture. What's more, this delicious Scotch retails for the awesome price point of $44.99! This single malt is brimming with brown sugar, honey, vanilla, toasted oak spice, coconut, green apple, pear, and orange zest. Perfect for the bourbon drinker who would like to try out scotch!
Cocktail: Stick it in a glass and drink it neat!
Or in a Godfather:
Drink in a lowball glass with an ice ball
Amarula Cream Liqueur | $18.99 750ML
For anyone who's always on the search for a quality replacement for Bailey's at a lower price point, look no further than Amarula Cream! Made in South Africa with a blend of their native marula fruit and fresh dairy cream, Amarula shows bright caramel and butterscotch notes and a faint tropical fruitiness. The marula plant is unique to Africa and is in the same family as mangos, pistachios, and cashews. It holds a special place socioeconomically in South Africa due to the high amount of nutrients found in it. Some proceeds from each bottle purchased go to protecting elephants (closely tied to the marula tree) from being poached across Africa.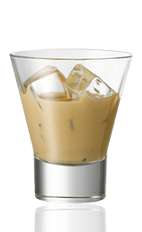 Cocktail: Amarula Spiced Dram
Drink in a lowball glass on the rocks