by Karina Roe
"The ground has all the life you need to give birth to grapes. A vine needs the earth to make a grape. Once you have that grape, you need the earth again to make the wine." –Josko Gravner
There is poetic beauty in the idea that the soil that births the grapes then becomes the vessel that holds the wine. The ancient art of amphora winemaking goes back to the earliest origins of turning crushed up grapes into a brain-tickling ferment. Today, 8000 years later, amphora wines are a small but mighty force that are finding their way onto the palates and into the hearts of curious wine lovers. 
The amphora tradition goes back to ancient Egypt. These vessels, which have been found in huge quantities stacked neatly alongside great pharaohs in their tombs, were known as symbols of fertility and rebirth. But more practically than that, these ancient clay pots also radically transformed the way people were able to consume wine. Amphorae changed wine from being a mere seasonal beverage that needed to be drunk immediately before it spoiled, to giving it extended life and mysterious complexity. 
Amphorae are also linked to ancient viniculture practices in the Fertile Crescent and what is today known as the country of Georgia in Eastern Europe. But unlike the ancient Egyptians who used any number of additives and flavoring agents to help with taste and longevity, the Georgian methods were much simpler. The focus has always been on the inherent qualities of the wine itself and even more important, their beloved qvevri, the Georgian term for amphora.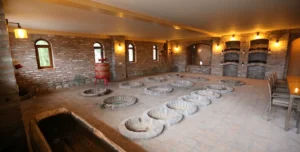 Qvevri makers were once the most heralded members of Georgian society. The know-how of this laborious craft was passed down from generation to generation. But after various world wars, political upheavals, crushing Soviet rule, and the dawn of the tech era, Georgia's qvevri tradition was on the brink of extinction. A handful of qvevri producers were left to defend their ancient craft, but the inevitable truth was that their precious tradition would die with them.  
But the pendulum always swings back the other way, doesn't it?  
In the late 20th century, an Italian winemaker by the name of Josko Gravner made a pilgrimage to Georgia, and after tasting the local wines decided that qvevri was the only path for his own wines. Gravner brought back qvevri to his Friulian estate, introduced his compatriots and subsequently the rest of the world to this resurrected craft, and suddenly Georgia could not churn out qvevris fast enough to meet demand.  
So, what is it about these clay pot wines that has become so endearing to the geeky somms, adventure seekers, and crunchy naturalists of the wine world?  
Clay vessels have roots in many cultures and countries around the world. But in the case of Georgian winemaking, qvevri are synonymous with skin-contact wines, or "orange wines." Wines of all colors are fermented and aged in qvevri, but amber wines are the standard bearers of Georgia's unique wine traditions.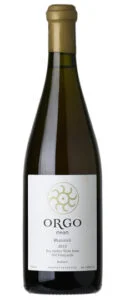 Take the Orgo Rkatsiteli for example. "Rkat" is to Georgia what Chardonnay is to California, and is a perfect candidate to take on skin contact and amphora fermentation. This wine from Kakheti sees 6 months of skin contact maceration in qvevri, and comes from astonishingly old vines despite the region's many Soviet-era vine pull schemes. It is the perfect introduction to qvevri wines and Georgia's most famous white grape. The wine is unfiltered and a touch cloudy on purpose, giving it more depth of flavor. There are indeed tannins here because of the skin contact, but they are fine and well-integrated. The qvevri aging gives a subtle earthy nuttiness to the wine, and frames the dried apple and tea notes that appear with a little time in your glass.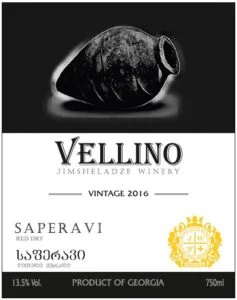 But because qvevri and amphora are less porous and contribute less flavor than oak barrels do, their effect on more intense red wines is also lower. This allows the wine itself to shine through, and for a grape like Saperavi this is important. If Rkatsiteli is the Chardonnay of California, then Saperavi is Cabernet Sauvignon. The Vellino Saperavi is textbook: deep, dark ruby, full-bodied with great acidity and tannins, and very long-lived. This fruit-driven example is plush with ripe blackberry, black plum, and cherry, and is a perfect match with any hearty stew or roast.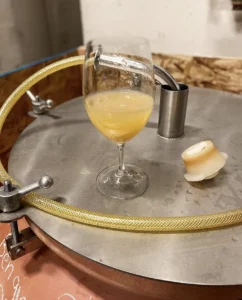 Today, amphorae are being used by artisan winemakers around the world, from Slovenia to Sonoma. Minnesota's own wine cowboy Phineas Fittipaldi brings us Wiley Wines Ribolla Gialla. Ribolla Gialla is a mainstay white grape for Gravner in Friuli and has found its way to the vineyards of Oak Knoll, Napa Valley. Lovingly farmed using organic methods by Steve Matthiasson, Phineas hand-harvested these grapes and aged the wine on their skins in Oregon-made amphora for 9 months. For those thrill-seeking drinkers, this will make your head spin and your taste buds dance.  

Another nod to international champions of amphorae is the delectable Don Juan José 'Anfora' Carignan from Casablanca Valley in Chile. Borrowing from both European and Chilean traditions, Juan José uses grapes from extremely old vineyards (135-year-old Carignan vines) and prefers to use old anfora made from the same soils his vines grow in. Originally from France where it is used as a blending grape, this 100% Carignan is laden with spice and earth tones yet still filled out with ample red fruit. And like all the other featured bottles here, fermentation is done with native yeast, little to no manipulation, and with a deep respect for the grapes, land, and hands involved. 
From the most ancient depths of wine history to our shelves at France 44 in 2022, it's a pretty cool thing to be able to be a link in an 8,000-year-old chain of tradition. If you'd like to read more about the Georgian qvevri tradition, check out Alice Feiring's book "For the Love of Wine." Gaumarjos!