by Hailey, Melissa, & Josh
If you know me at all, you know that picnics are one of my (Hailey) favorite past times, and more specifically, a 'loved up', full shebang of a picnic complete with my favorite blanket, a slew of curated snacks, a couple of bottles of my favorite bubbles, and a couple of good friends. When I'm feeling especially bougie, I might even whip out a tiered platter to really drive it home (and, let's be honest, because I want to Instagram the perfect evening I've created). Our upcoming cider and Pét-Nat class is meant to lean into that in the most perfect picnic setting there is: the West Winds Garden at the Bakken Museum. 
More about our class!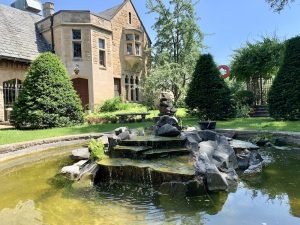 We're partnering with MN local cider house Keepsake Cidery for this class, so you can expect some really incredible apple ferments from them, and we'll be picking some of our favorite ancestral method sparkling wines to enjoy as well. We're as much educators as we are event lovers at France 44, so you can still expect a 30-45 minute class to give you some info on what exactly a Pét-Nat is, why you should be drinking more cider, and what to eat with both.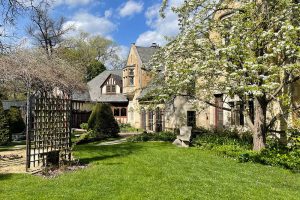 Afterwards, you'll get to take control of your evening. We'll have various picnic-style seating options available for you to cozy up at, and we will also be bundling up some of our favorite goodies to picnic with from the Cheese Shop for each group. Several stations of wine and cider samples will be available for you to peruse after the class as well. Ask us all of your burning questions and we'll deep dive into all of the details of each wine and cider with you, or find your cozy corner and enjoy a beautiful evening with snacks, wine, and good company. 
More about the amazing people at Keepsake Cidery!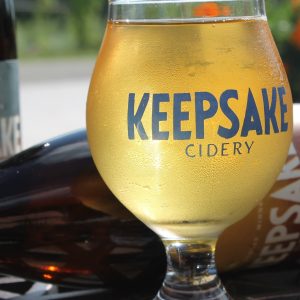 Keepsake is a family run orchard, cidery, and tasting room that focuses on wild fermented (aka Pét-Nat) ciders. They are located in the beautiful Cannon Valley region in Dundas, MN. Nate and Tracy started their orchard out of a passion for farming, community, and nature. They bring these fundamentals to everything they do. The cider is a highlight that helps them showcase local farms in their tasting room, local restaurants in their Friday night cookouts during the summer, and the markets they host for local businesses through the year. When you drink their cider, you are drinking something that is part of a larger community dedicated to sustainability, family, and community. They can tell you where every apple they used comes from and give you background on why they chose that apple. Keepsake educates and entertains while you drink their cider and share the experience. At the class, you need to be sure to ask how many animals are currently at the orchard (natural pest control, natural fertilizer, etc.) and where the name Keepsake came from. The true heart of Keepsake comes out in the cider they make. Check out some of our current favorites!
What the heck is Pét-Nat?
As they say, "everything old is new again". The original method for sparkling wine production that has become fashionable in the past decade or so, and has made quite the splash into the market recently. A few short years ago we had a handful of Pét-Nat wines and now we have an entire section from all over the world! Although "Pét-Nat" is a loosely defined term, wines labeled as such often (though not always) follow these general rules: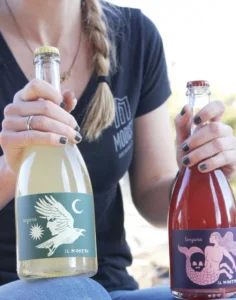 Made using the Ancestral Method (part way through the first fermentation the wine is bottled and then the 1st fermentation finishes in the bottle resulting in carbonation)
Bottled unfiltered/without disgorgement. Yes, there may be sediment or even chunks in your wine (yummmmm chunky wine…). It is harmless and will settle to the bottom of the bottle if undisturbed.
Topped with a metal crown cap instead of the traditional sparkling wine cork.
Often slightly lower in alcohol
Less carbonation than traditional method sparkling wines like Champagne
Pét-Nats range in style from fresh and fruity to funky, sour, almost kombucha-like wines. Join our Pét-Nat and Cider Event on August 16th to give these a try!