by Rick
From the earliest days when I began learning about the "Wine Business", I eagerly explored the wines of the great regions of the world, save for one. Italy intimidated me for so many reasons. For one, Italian wines can be hard to love unless used correctly. They have a higher level of acidity and are almost always bone dry. As such, they show best when consumed with food. I cannot remember a time where I ever saw an Italian drinking wine without some sort of food present. In my early days, I, like many Americans, drank wine like a cocktail. Italian reds in particular do not often show well in this context.
Another problem for me was that there are so many different types of Italian wine and almost none of them bare any resemblance to wines I knew from my casual wine drinking days. Even worse, it seemed like the Italians were trying to be intentionally confusing in their naming conventions. For example, there is Barbera, Barolo, Barbaresco and Brunello. Three are appellations, one is a grape. The grape (Barbera) is grown in the same place as two of the wines (Barolo and Barbaresco) but not the third (Brunello). Oh, and Barbera grown in Barolo or Barbaresco cannot use that name on its label! There are other delightful quirks in Italian viticulture, such as the fact that there are at least three different types of Trebbiano (same name, totally different grape), or that there are two wine growing areas in Italy called Montepulciano. There is also a type of grape called Montepulciano. If one were to make wine from the Montepulciano grape in one of these regions, it would be illegal to use the word anywhere on the wine label. In the other, it would be illegal NOT TO! Is it any wonder why people get confused?
Despite these idiosyncrasies, I am glad I finally decided to learn about these wines. I've been fortunate to visit Italy on several occasions, and it was because of these tours that I finally began to unravel the mystery of Italian Wine. Italians know how to live well, and wine is as indispensable to their way of life as pasta, fashion, or soccer. One of the things that helped me navigate the quirks of their wine culture was when I came to understand that Italy is a country in name only. Most Italians I've met think of themselves first and foremost as coming from one of the many regions. They are Romans, Tuscans, Piemontese, Sicilians and Campanians, to name a few. Even within the many regions, there can be fierce rivalries between towns that are just a few dozen kilometers from one another. Two such examples are Florence and Siena in Tuscany, or Venice and Verona in the Veneto, but there are many others.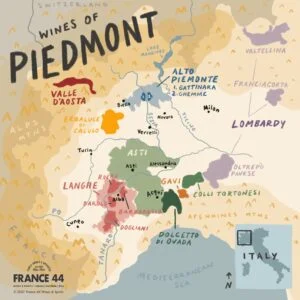 Wines from Piedmont are among my personal favorites. Being a major fan of Pinot Noirs from Oregon and Burgundy, I've found the Nebbiolos from Piedmont tick many of the same boxes for me. Between the spice notes, the red berry fruit and the similar weight and texture, it's hard for me to choose a favorite! Beyond the glorious Barolos and Barbarescos, there are other outstanding wines from this spectacular region. Barberas offer bright and fresh tart berry flavors with a texture that will make California Cabernet lovers swoon. Dolcettos, on the other hand, are the blue-fruited and light-bodied answer to Beaujolais. There are a handful of charming whites that hail from the land of truffles and hazelnuts, but this particular blog will focus on the reds.
To mine such a rich vein as the red wines of Piedmont, it is helpful to limit the discussion to a few exemplars of the many styles of production: G.D. Vajra, Fabio Oberto, and Oddero. Each of these houses have a definitive style and access to outstanding vineyards. They are also readily available in our marketplace and their wines are still reasonably affordable.
---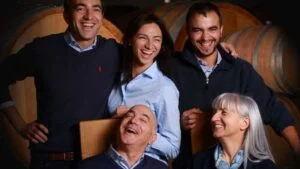 This classy family of introverts (a rarity in gregarious Italy) ply their trade a mere three kilometers from the ancient town of Barolo. They are the classic "sleeper" winery in that they are rarely mentioned by the fawning trade press or trophy hunters, yet their wines receive unfailing praise and honorable mention vintage after vintage. Their craftsmanship and humility are legendary among the many ancient families who have farmed in the area. There was no greater testament to this than when Luigi Baudana offered to sell his land to them, and only them, when he decided it was time to retire. This was despite the fact he had many wealthy and famous suitors offering him substantially more for his storied vineyards.

The house style of G. D. Vajra is one of accessibility at all stages of development. Even their most prestigious bottlings are generous and approachable with very little preparation once they are released. They could easily adjust their style to make more fashionable wines intended for long cellaring (and with substantially higher prices), but to them, the whole point of having vineyards in one of the greatest wine regions on Earth is to produce wine for the widest possible audience. That said, it is important to note that their wines are not intended for the "mass market". They are, instead, wines made with a true sense of place but in a style (and price) that allows for nearly any palate or budget to indulge.
Exhibit A-1 is their remarkable 2017 Langhe Rosso ($16.99). This perennial favorite is a blend of four indigenous varietals: Nebbiolo, Barbera, Dolcetto and Freisa. We've been selling this wine for twenty years and somehow it has remained at roughly the same price with an even higher level of quality as when we first fell in love with it back in 2002!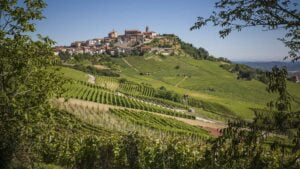 Family dynamics can be complicated. Fabio Oberto knows all about this. He worked for years under his father, Andrea, learning the ins and outs of winemaking. As is often the case in winemaking families, various siblings take over aspects of the business. This was the plan at Oberto. Fabio would assume the winemaking duties and his sister would oversee marketing and sales. Unfortunately, it was not to be. Like with many farm families, children often decide they want the city life. That was the case with Fabio's sister. She did not, however, share her plans with Fabio. In a maneuver worthy of a soap opera, she secretly convinced her father to sell the business, and NOT to tell her brother about it, rather than continue as a family winemaking operation. All of this took place when I was visiting Piedmont in 2016. It was hard to believe that such a thing actually happens in real life. The situation for Fabio looked grim.
Through a twist worthy of Hollywood, somehow Fabio managed to scrape together enough money to buy out his sister and convinced his father to allow him to take over the entire business. With herculean effort, he assumed all responsibilities and managed to get wine produced and sold under his own label, without missing a vintage. We at France 44 are very glad he did, as these wines are always strong sellers in the category. Fabio's style follows in his father's footsteps. His wines are plush, ripe, and hedonistic.

The 2018 Barbera d'Alba ($19.99) is a crowd-pleaser that will compliment a variety of foods. The tart Bing cherry fruit is wrapped in a rich body, smoothing out the bright acidity and emphasizing the signature freshness of this varietal to shine. Enjoy it with rich stews, duck breast or creamy washed-rind cheeses, like taleggio.
If you are looking for a great introduction to Barolo, the 2016 Barolo del Comune di Serralunga($37.99) is hard to top. Fabio made connections with many growers in the area during his years preparing to take over the winery. This wine is the fruit of those labors. Not only is it from the stellar 2016 vintage, but it perfectly reflects his winemaking style. The tannins are sweet, not green or dusty. The wine has good structure and balance while still delivering on his signature fruit-forward approach. The essential Nebbiolo spice notes are present without taking control of the experience. All in all, this is a wine that is ready to drink today but will also improve with some cellaring (5-7 years at least).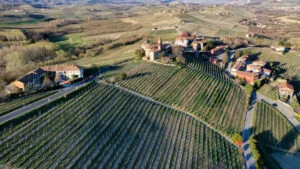 The modern origins of this outstanding producer begin in the 1950s, though the history of their cellar and winemaking stretch back a century before that. Giacomo, the patriarch of the family, was a pivotal player in the elevation of Piedmont wines to their current lofty status. He was also a major force in the burgeoning fame of other agricultural gems of the region, from cheese to hazelnuts to truffles. The Oddero cellar is located in the center of one of the greatest vineyards in all of La Morra, the legendary vineyard of Cannubi, and was an important (and very secret) Masonic meeting house for the province in the 19th century.
The house style is heavily influenced by the traditional method of winemaking in this area, which is to say that their wines, especially their Barolos, are more tannic and better suited to long ageing than early enjoyment. I can personally attest, however, that one's patience will be richly rewarded. Oddero's wines retain their primary fruit for an incredibly long time, with 15-year-old bottles still showing youthful vivacity and surprising grip… even from "ordinary" vintages.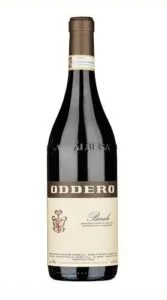 We have available the 2017 Oddero Barolo ($54.99). This vintage was a challenging one for many producers. The crop was very short due to a brutal frost that affected nearly all of Western Europe, and the weather was hot and very dry. Nevertheless, those who knew what they were doing were able to produce wines of great quality. The 2017 Oddero will surely evolve gracefully over the years but is surprisingly generous in its youth. If you absolutely must drink it now, you will have to decant it for a good 90 minutes before serving it. My advice: Buy a few bottles. Open one now and have it with a glorious rack of lamb, then hide away the rest of the bottles and forget you have them for the next decade or two!