by the France 44 staff
Last week, Bill wrote a piece about the sexism that exists within the beer industry, and what our response as a business should be to it. A lot of the questions he posed are not easy ones to answer. What should our criteria be when we're deciding what products to promote in our store? What should our response be when we learn about makers and producers who harm or cause trauma to others? Are we doing enough in our own business to make sure our employees are safe, respected, and happy?
The pandemic has perhaps allowed us (or forced us) to take stock of a lot of things. We've looked at how we spend our time, what we consume, and how we consume it—be it food, alcohol, information, entertainment, etc. Maybe we've decided to prioritize things differently now that we've experienced "time" in a different way.
And perhaps, while experiencing a different lifestyle this past year, while hearing voices different from our own speak, and coming to see things in a new light, we've learned the power behind the word "no." No more misogyny. No more uncomfortable situations. No more making excuses for others. No more saying, "that's just the way this industry is." No more turning a blind eye. No more silence.
We know sexism and misogyny exist in many industries—it's not specific to the beer, liquor, wine, or hospitality sectors. You're here on our wines and spirits blog, so you've gotten a peek into this particularly male-dominated world. There are a lot of things that need to change, and it can be pretty depressing to realize how deep we need to dig in order to uproot all the rottenness.
True and lasting change is brought about by building a firm foundation of many small, individual efforts of pushing back, saying no, standing alongside and fighting with others for better things, and creating a small corner of the world that functions differently—that is to say: in a respectful, equal, safe, and supportive way. It doesn't sound like too much to ask for, but these standards can be surprisingly scarce in a world ruled by a bunch of white guys.
We have more gender diversity on our staff than ever before. We're so lucky—and so proud—to have such a wide array of voices, backgrounds, and perspectives that we can learn from and champion for. Each of the folks below has highlighted a maker/producer within our industry that has helped to inspire, challenge, or create important memories for them. We hope you'll be equally inspired to try them out, continue the dialogue, and support the larger vision for a better future.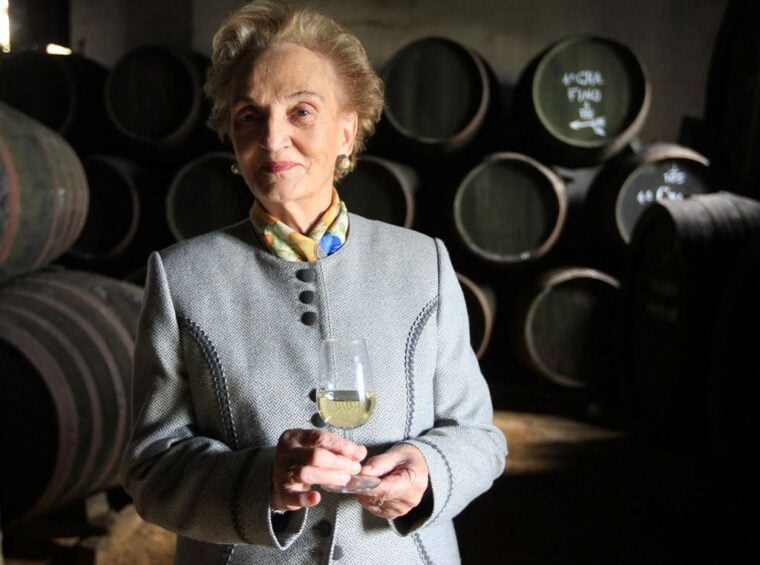 Hailey: El Maestro Sierra Fino Sherry combines two things that excite me greatly; unique and delicious wine plus an inspiring story of women doing their damn thing in an industry dominated by machismo. The El Maestro Sierra bodega was established in 1830 by José Antonio Sierra, and is now run entirely by his female ancestors. Dr. Carmen Morrega Pla took over after the death of her mother Doña Pilar Pla Pechovierto in 2021. That might not sound so wild if you aren't familiar with the context, but it is quite rare to find a winery in Spain (or globally, for that matter) where this is the case. That's a rabbit hole I'll spare you from for now. We're talking about an industry that historically has been, and is still to this day, dominated by aristocratic dudes – so, you can imagine the determination, bad-assery and perseverance these women must have had.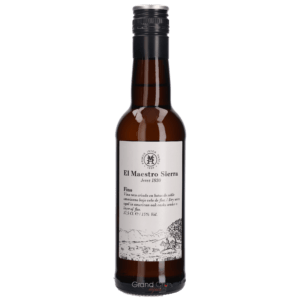 I could go on and on about why sherry is so intriguing and crazy (google "solera system" if you want to get nerdy and have your mind blown into a million pieces), but I'll leave it with a quick note on this specific wine. Fino sherry is one of the lightest, most delicate styles of sherry made, so expect a bone-dry wine with super high acidity and notes of saline, thyme, cashew, lemon zest and a touch of ripe apple. If you like oysters/shellfish, cheese, risotto, or just food in general, this is for you! 
Kayla: Oberon is my favorite summer beer. It's clean, refreshing and reminds me of cabin season. Going to the lake, and riding around on a pontoon boat with my family. Beach-towel-model Maddy couldn't agree more.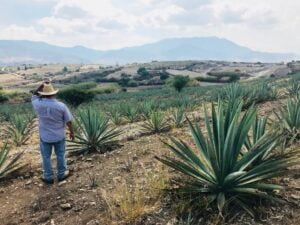 Tashi: You might remember reading about Erstwhile Mezcal in my first blog post for France 44 about drinking sustainably. I'm here to talk about it again because my experience writing that blog was incredible!  Our distributors were very supportive of my endeavor and linked me with distilleries that fit my criteria. I was able to get in contact with the co-founder of Erstwhile, Yuan Ji.  She took time out of her day to have a zoom meeting with me and give me a mezcal 101 lesson and tell me all about the amazing things her company is doing.  It was incredibly impactful for me to have so much support from perfect strangers while I was writing this piece to share with my France 44 family. The time and care Yuan took to connect with me is the kind of thing I love to see at work and in my everyday life. We live in a world built by and for men and it's easy to feel overwhelmed or overlooked or just plain tired.  Supporting each other in our endeavors, no matter how big or small they might seem, is so important. Yuan did that for me. Not to mention that Erstwhile works directly with small family owned mezcal producers that utilize the skill sets of all family members and give them a voice.  Yuan was able to get me some quotes from the daughter of one distiller and the niece of another who are heavily involved in getting their family's mezcal out into the world. We currently have Erstwhile's Espadin Mezcal, which is the perfect balance of sweet and smoky.  I had never tried mezcal before tasting Erstwhile and while celebrating my blog post with the rest of our liquor team, I found it to be delicious. Even for a beginner! I'll forever be thankful (and a big fan) of what Yuan and her Erstwhile family are bringing to the liquor world.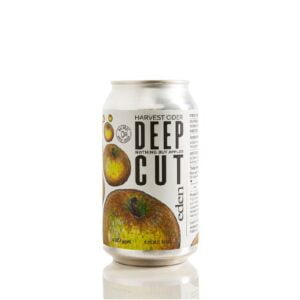 Melissa: Seven years ago, I started a journey into cider drinking. It became a hobby/passion for me and I wanted to learn as much about it as I could. Most of the books and articles I read were from well-known cider producers that were men. It was all great information from people I have huge amounts of respect for, but there seemed to be voices of women missing.
In a conversation with other cider enthusiasts, the name Eleanor Leger came up. Eleanor is the founder of Eden Cider in Vermont and took the cider world by storm with her ice cider. Since 2001, she has continuously produced beautiful ciders that pay respect to the apples she uses to make them. More than that, she has given her voice to the cider community and helped throw a spotlight on women in cider.
At CiderCon 2019 (an annual cider convention for makers and enthusiasts to get together), I had an opportunity to meet Eleanor. I was nervous about this because she is a cider superhero of sorts. Turns out, she is a "normal" woman. She is easy to talk to, ready to share experiences, techniques, and ideas with her colleagues, and always encouraging of those around her.
Eleanor is a pioneer in the US Craft Cider industry and a role model for women wanting to be cider producers.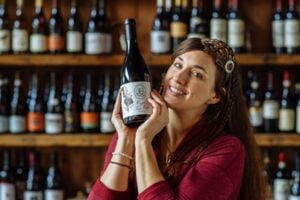 Karina: I first met Leah Jorgensen (pirate princess, owner, and winemaker) when she visited France 44 several years ago. Leah makes Loire-Valley-style wines in the Rogue Valley, located in southern Oregon. Not many people know about the Rogue Valley (the Willamette Valley gets all the fame and glory), and not many people make wine the way Leah does. She draws from her Scandinavian/Italian heritage as well as from her deep-rooted loved for the wines of France's Loire Valley to form her remarkable winemaking philosophy. As a shy and introverted wine-baby back in 2016, Leah's charisma and spunk shocked me into believing I could forge my own path in the wine industry. She is an extraordinary, unapologetic, and brilliant force in the wine world.