We know you've been waiting all year for this. We've got a gift box for everyone on your list, from the beer buff to the cocktail curious–even a non-alcoholic sampler pack! Check out our glassware gift pack add-ons, our mystery bottle stocking stuffers, France 44-exclusive wine maps and drink coasters, and France 44 class gift certificates. There's also a tried-and-true list of delicious and exciting wines that are sure to impress any host (and keep your party invites coming for years to come). And if you don't see exactly what you're looking for, come talk to our staff for more ideas or fill out this nifty custom gift form. Cheers, and happy shopping!
Found the perfect bottle, but need something else to gift-ify it? Choose to add on some glassware to complete the package. Plus, we'll put it all in a ready-to-give gift box, complete with crinkle and a ribbon! Click each add-on to see our recommended spirits to include with the glassware. 
Up your gift giving game by adding six traditional ceramic Copitas (tiny cups) to your mezcal, tequila, or agave spirit purchase. 
Recommended Spirits (sold separately):
BANHEZ ENSEMBLE MEZCAL I $29.99 I Comprised of 90% Espadín and 10% Barril agaves, this mezcal is delightfully mild, floral and fruity (pineapple, banana). Banhez Ensemble is perfect for first-time mezcal tasters and wonderful for cocktail innovation.
Make your fancy rum gift even fancier with two Rum Taster glasses to enhance all the complex aromas and flavors in a high-class bottle.
Recommended Spirits (sold separately):
PLANTATION XAYMACA  RUM I $24.99 I With Xaymaca Special Dry, Plantation revives the quintessential Jamaican-style, 100% pot still rums of the 19th century with an expression of intense flavors that reveal the traditional, legendary Rum Funk: aromas and flavors of black banana and flambéed pineapple. 
EL DORADO 12 YEAR RUM I $36.99 I 

Lush tropical fruit and spice nose with hints of honey and dark sugar. Round, mellow, full bodied palate with rich flavours of fruit and spice. The finish is delightful, elegant and dry.
Add two classic Glencairn glasses to your bourbon, whiskey, or scotch purchase. A must-have for any whisk(e)y lover, from novice to connoisseur!
Recommended Spirits (sold separately):
FRANCE 44 STELLUM SINGLE BARREL BOURBON I $54.99 I This is a 5 year MGP cask strength bourbon picked out by your favorite staffers just for you! Bright cherry and caramel milk chocolate hit you up front before coming through with oak and spice.
BOWMAN BROTHERS SMALL BATCH BOURBON I $32.99 I The Bowman Brothers Small Batch Bourbon is distilled three times using the finest corn, rye, and malted barley, producing distinct hints of vanilla, spice, and oak.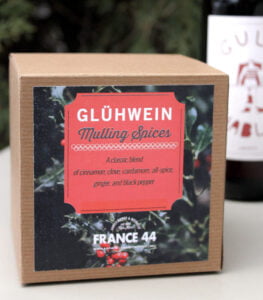 Pick up a box of mulling spices, a three-bottle sampler pack of your favorite spirit, or a pre-wrapped Mystery Mini gift.
Our Mystery Mini boxes are great for stocking stuffers, a white elephant gift exchange, or for those "I feel I should get them something but I don't know them very well" scenarios. Four 50ml bottles of booze are included, but it's a surprise as to what you get!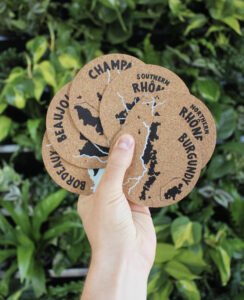 We also have our very own French wine region coasters! Grab one or all six. Only here at France 44!

J. LAURENS 'LA ROSE NO. 7' | $18.99 | This festive pink bubbly is one of our all-time favorites, no matter what time of year. Best to get two bottles though, or your host gift will be gone before you even walk out the door to the party.

WARIS LARMANDIER 'RACINES DE TROIS' BRUT CHAMPAGNE | $64.99 | Cuvée Racines de Trois represents the "three roots" of Waris-Larmandier: the contribution of the three siblings to the project, and their use of three grape varieties, and coming from three regions of Champagne. The Waris-Larmandier style is terroir-focused, understated, structured, and ultra-elegant. 

DOMAINE CARRETTE MACON-MILLY LAMARTINE | $19.99 | This unoaked Chardonnay is the perfect host gift, whether it gets opened at the table or not. Just enough fruit and creaminess to provide texture and a delicious flavor, this high-class white wine is a guaranteed success at any function.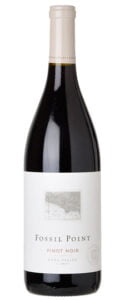 FOSSIL POINT PINOT NOIR | $17.99 | Showcasing notes of ripe plum, black cherry, clove, and pomegranate, this Pinot offers a quality well above its price point. Fossil Point Pinot has concentrated flavors that will pair well with slow-cooked pork belly, roasted duck or miso-glazed Salmon.

O'SHAUGHNESSY NAPA VALLEY CABERNET SAUVIGNON | $84.99 |  This polished and rich Cabernet checks all of the boxes. It is plush, complex, and perfect for your holiday roast. O'Shaughnessy is a fabulous wine to drink now and over the next decade.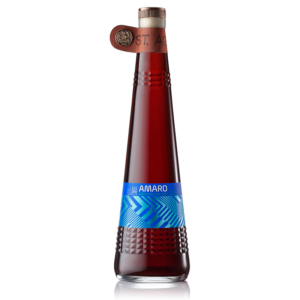 ST. AGRESTIS AMARO | $39.99 |  Although it is not a wine, the St. Agrestis Amaro is the perfect after dinner drink to cap off your holiday party! It is one of our staff favorites and is great for new Amaro drinkers and enthusiasts alike. Organic herbs, roots and citrus are macerated into a neutral spirit to produce this Brooklyn-made Amaro.