Each week for the month of August we'll bring you a different cocktail recipe or food pairing featuring Mezcal (tequila's smokier cousin). Mezcal comes from 9 different regions in Mexico, the most common being Oaxaca. Similar to tequila, it is distilled from the heart of the Agave plant. Unlike Tequila, any type of Agave can be used. It is also most commonly pit roasted prior to fermentation, giving the final product its distinct, smoky flavor. If you haven't tried mezcal before, this might be just the nudge you need to get a bottle to experiment with!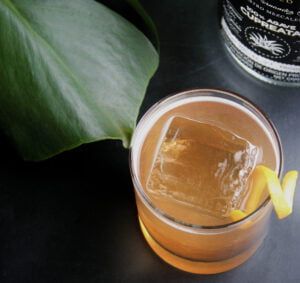 Week 1:
Smoke on the Water
In a cocktail shaker with ice, combine:
Shake until well chilled and strain over fresh ice into a rocks glass. Garnish with a twist of orange peel.
---
Week 2:
Smoky Negroni 
In a mixing glass with ice, combine:
Stir until well chilled and strain over fresh ice into a rocks glass. Garnish with a twist of lemon peel.
---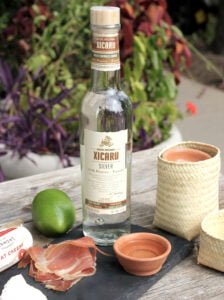 Week 3: Mezcal Food Pairing! 
This week we are going to pair mezcal with a fun snack from the Cheese Shop! We recommend trying Xicaru Silver Mezcal with Jamon Serrano and goat cheese (Order online HERE). Jamon Serrano is a dry cured Spanish ham sliced thin and one of the most iconic Spanish food products. While mezcal is from Mexico, the smokiness will highlight this meat well, and the goat cheese adds a nice creamy finish. Xicaru is available in 375 ML bottles so it's a less intimidating purchase if you want to try mezcal for the first time. This is the perfect pairing to take along to a happy hour or picnic gathering to introduce your friends to the amazing world of mezcal (and the fun things you can find at our Cheese Shop)!
---
Week 4: The Final Week! 

This week we're going to make the easiest cocktail pairing ever.  Last weekend at the cabin?  Quick pairing to wind down after a busy week?  We've got you covered.  This week's mezcal is going into Summer Lakes Bootleg mix, which will create a very tasty twist on a mojito.  We recommend trying Derrumbes San Louis Potosi, which uses above ground roasting methods for a less smoky mezcal.  You'll get hints of bell pepper, minerals, and a little funkiness that's going to pair great with pimento dip and some crackers from the cheese shop.  Quickest shopping trip ever, and you've got an easy but delicious cocktail and snack covered for wherever life takes you.