by Tom
The wait is finally over: we have received our Maker's Mark Private Select Barrel! Maker's Mark has one of the most interesting single barrel programs ever where you can customize a ring of staves that are dipped into the barrel for a finishing time period of nine weeks. A few years ago we landed on the perfect blend of staves for our palates. With the addition of ten staves with five different staves to choose from, there are a daunting 1,001 different possible combinations.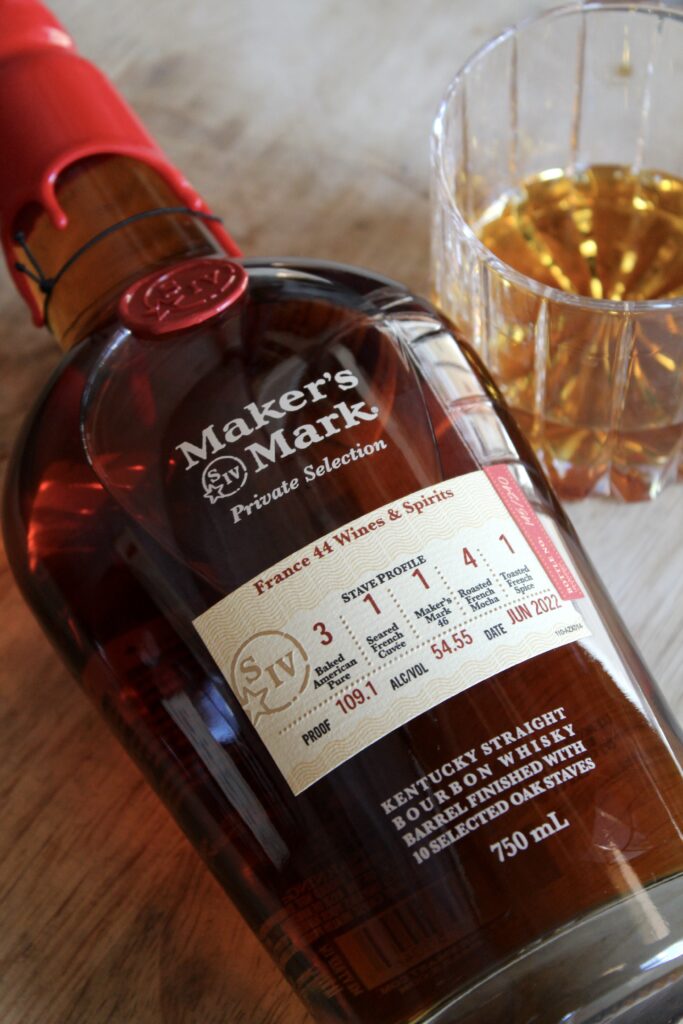 The Staves to Choose From
The five staves made specifically by the Independent Stave Company to choose from are the following:
Baked American Pure 2- the only American Oak in the bunch, giving it brown sugar, vanilla and spice.
Seared French Cuvee- This stave is ridge-cut and seared with infrared heat, this stave gives off toasty caramel.
Maker's 46- the classic. This stave gives off dried fruit and caramelized spice.
Roasted French Mocha- toasted on high heat in a convection oven, giving off big maple, chocolate, and toasty char.
Toasted French Spice- toasted on both high heat and low heat giving off smoke and cinnamon spice.
The F44 Private Select Single Barrel
As you can tell, we had a long and arduous task ahead of us. Blending up different combinations of staves to see what we liked best, I mean twist our arms, right? We quickly realized Maker's Cask Strength is nowhere as sweet as classic Maker's Mark, so we went for a more creamy and fruity profile while also falling head over heels for the Roasted French Mocha staves. We ended up with the following:
3 Baked American Pure 2 staves for Vanilla
4 Roasted French Mocha for chocolate and maple
1 Maker's 46 for cherry
1 Toasted French Spice
1 Seared French Cuvee
Here's the exciting wrinkle, unless you have used our beloved French Mocha Staves in a past recipe, you cannot use it use it. It was been retired and archived so you can only use it in past recipes, so this is the only place to grab this special bottle we have cooked up for you!
Bottled at 109.1 proof,  it smells like chocolate covered cherries and tastes like creamy caramel and vanilla, but why don't you stop in and grab a bottle and see what you think?