Memorial Day is here, summer is beginning, and we're embarking on a summer of pairing! Here at France 44, this is our favorite time of the year. We get to dust off our grills and pull some of our favorite summer bottles off the shelves.  
Our talented butchers prepare gorgeous cuts of meat & house-made brats to grill, and lovely charcuterie to serve. If you have not checked out the case in our cheese shop yet, you absolutely must this weekend. Of course, you can also order online here. 
Cookout style dining might feel casual, but you can and should still be intentional about the drinks you serve. Just as you may spend hours seasoning, marinating, smoking, and grilling meat, you should spend time finding just the right beverages that accompany and enhance your meal and take it to the next level. Luckily for you, Bennett, Tom, and Dustin of our beer, spirits, and wine teams, respectively, have put together a couple of beverage recommendations for you this week, to make your Memorial Day barbecue a night to remember.  
Perhaps the most common Memorial Day beverage is beer, so we'll start there.  
When pairing beer with food there are a few main principles that you'll want to consider. The first is to pair a beer and food that have matching intensities. Think about what contributes intensity to each. For beer: alcohol, hop bitterness, malt flavor (caramelized, bready, toasty, roasty) and residual sweetness can all add intensity. In food: fatty richness, sweetness, spices and cooking techniques (searing, roasting, broiling, etc) can add intensity. The browning process that occurs while cooking food, called the Maillard reaction, is also the process that changes flavors in modified malt.  
Let's use that to segue into our second principle: identifying harmonizing flavors. Choosing a beer and food with similar Maillard flavor components will create a natural bridge between the two. Consider other components, like how a citrusy or herbal hop character might accentuate a dish containing fresh herbs.

The last principle is to identify potentially contrasting or balancing elements. For me, the main focal point here is hop bitterness. Hop bitterness is great for cutting through fat and richness in food, achieving balance. On the other hand, when a hoppy beer is paired with spicy food, it will amplify the perceived spiciness which could cause imbalance. Other components to consider are carbonation and alcohol (which cut through and balance richness), and malt sweetness (which balances spice and acid).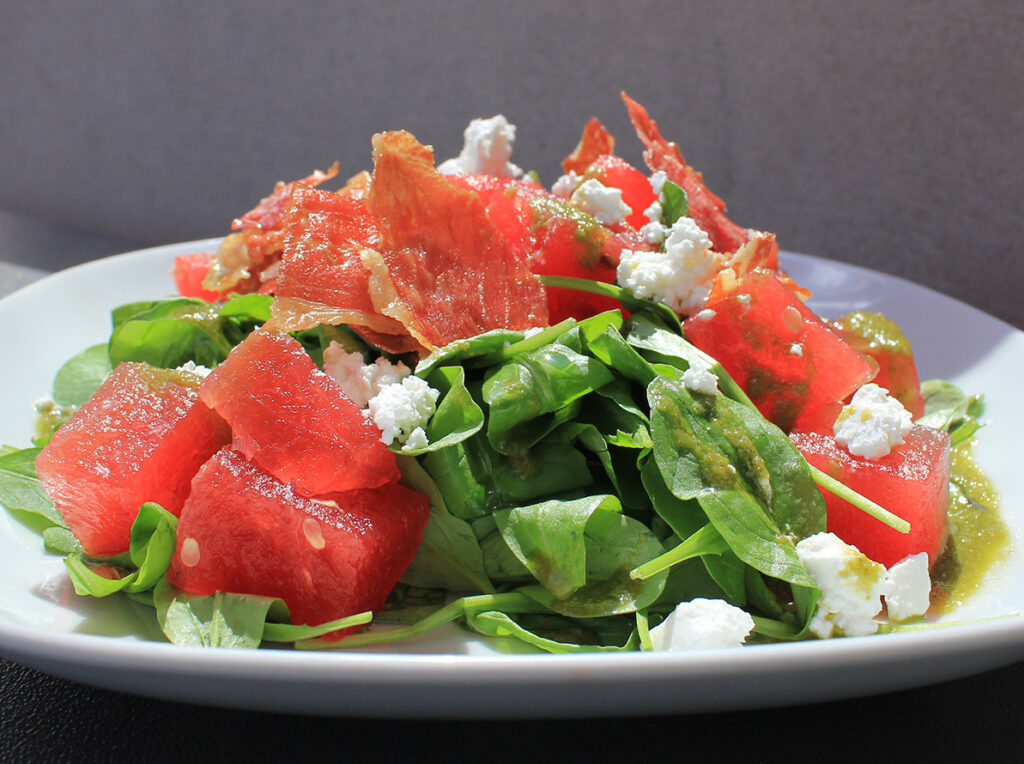 May is the beginning of watermelon season, so why not have a big 'ol slice at your Memorial Day cookout. I would suggest taking sips of a bright fruity and spicy hefeweizen as you enjoy your fruit. The tangy yeastiness, soft texture from high-protein wheat, and dancing notes of banana, citrus and clove match the refreshing qualities of watermelon. 
Cream Ale + Corn on the Cob
Ahhh, the wonderful simplicity of grilled corn on the cob with a little butter. It still counts as a vegetable, right? Pair this staple with a Cream Ale, a lighter ale style that mimics some of the characteristics of lager. Similarly smooth and light, but with subtly more malt and sweetness from the use of flaked maize – no wonder it works so well!
IPAs get all the attention and glory these days, but let me remind you that Pale Ales were the foundation upon which that castle was built. A quality Pale Ale can be a sort of multi-tool for beer pairing, and it goes especially well with burgers and pizza. Softly-sweet crystal malt harmonizes wonderfully with a brioche bun while the citrus and pine-like hop bitterness cuts through the richness of beef and cheese. Perfect!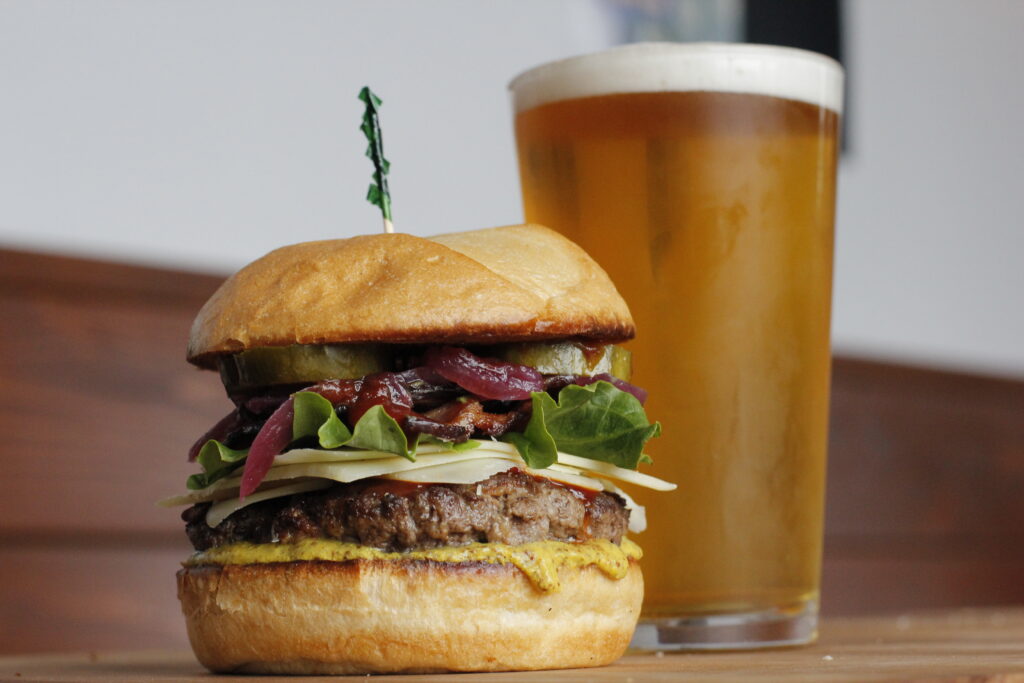 Raspberry Gimlet + Grilled Chicken
Our Raspberry Gimlet is bright and refreshing on a hot summer day, like the ones we will hopefully be getting this weekend. The bright fruitiness will blend right in with the fresh fruits served at the beginning of a cookout and will cut right through the char and salinity of grilled chicken. If served as a long drink with ice and club soda this cocktail can be enjoyed all evening long.  
2.5oz New Harbour African Dry Gin 
0.5oz lime juice 
1oz Mathilde Framboise Liqueur 
Shake & Strain into a coupe glass 
OR 
top with club soda and ice for a longer lighter drink 
Garnish with raspberries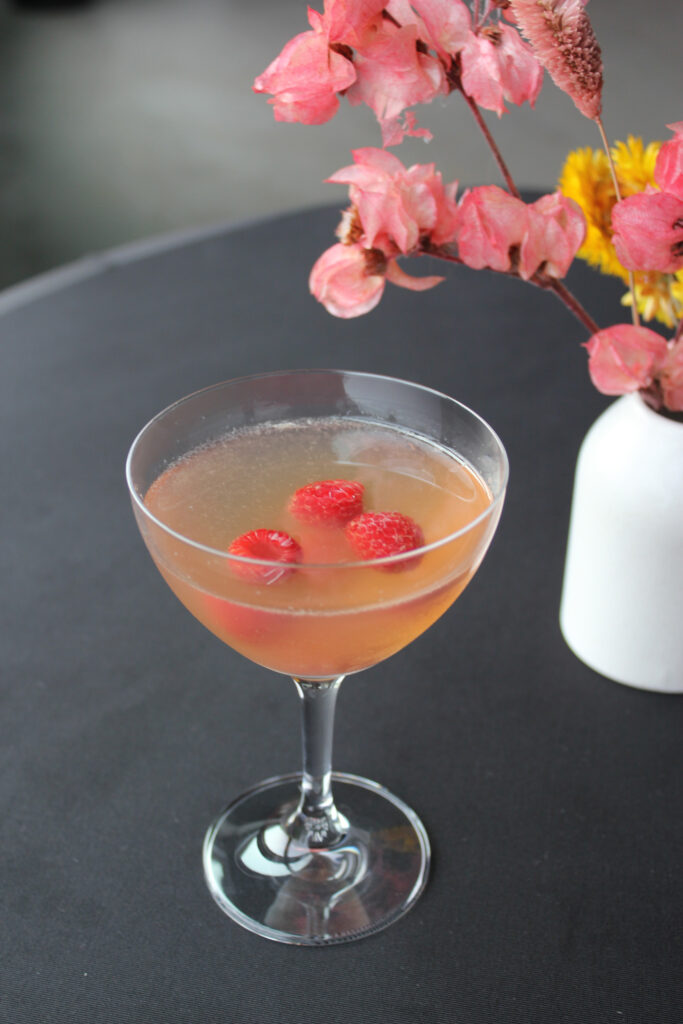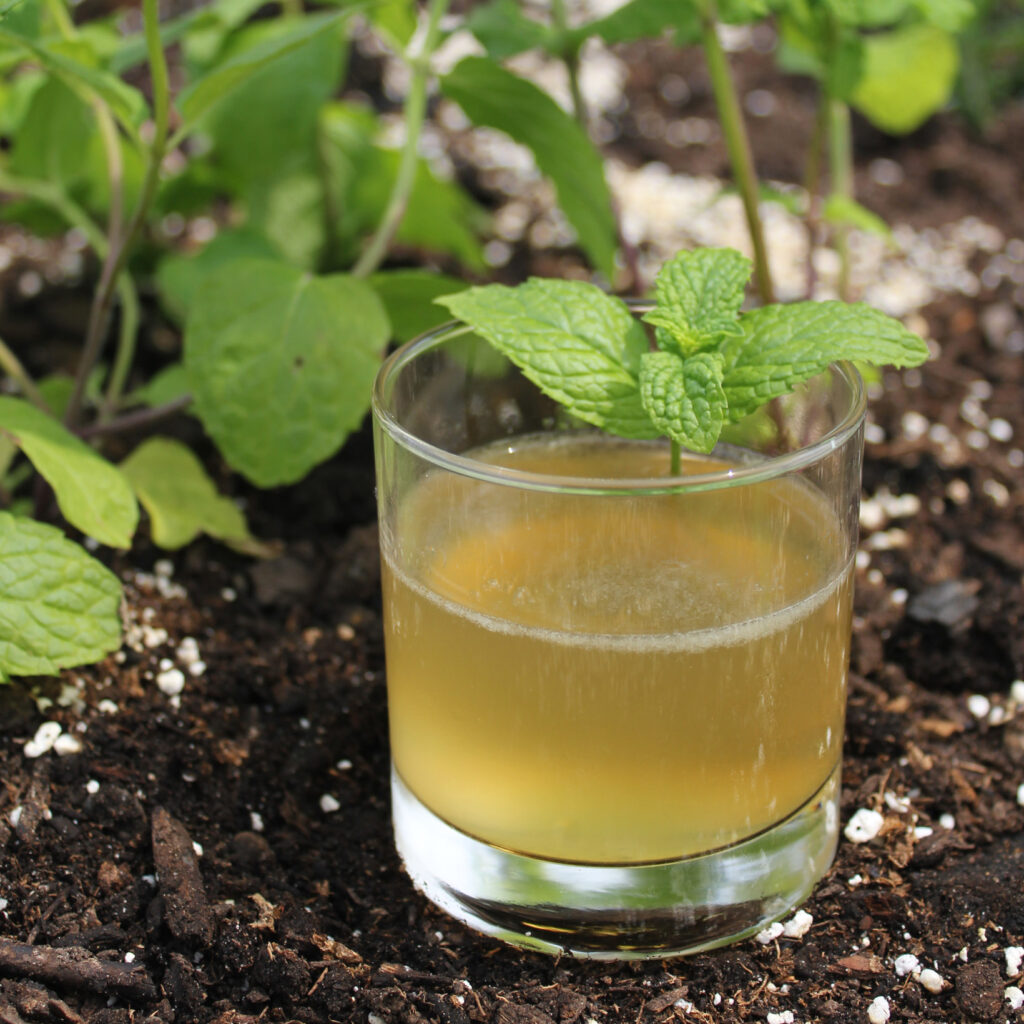 Peach Bourbon Sour + Pork Chops
Peach and pork go together through the contrast of sweet and savory; this is also why peach glazes are so common. Both have milder flavors that blend together quite nicely, especially on a hot day. This drink also has the freshness of a mint garnish and the spice of bourbon to keep everything nice and balanced. if we didn't need a reason for a peach cobbler for dessert, we definitely have one now! 
2oz Woodford Reserve Bourbon 
1oz lemon juice 
1oz Mathile Peche Liqueur 
Shake & Strain into a lowball glass 
Garnish with a mint sprig 
I am a huge fan of Lambrusco and pink wine for grilling. Lini Lambrusco Rosso is killer with any brat. The lambrusco lends a dry but fruitful accompaniment to the salty grilled flavors of the meat.  Rose helps in a similar capacity, leading with a beautiful fruitful body that welcomes salt and rendered fat. Peyrassol Rose from France or GD Vajra Rossabella Rosato would be great choices.  All of these wines are also great served chilled.