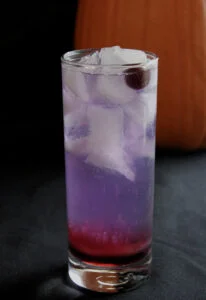 We've got some spoooooky cocktails for all your Halloween shenanigans!  Some might push you to try something a little more complicated, but don't be scared!  They will be worth the work.  And some will be perfect to share with friends at your next séance or ghoul gathering.  Let those skeletons out of your closet, it's time to party!
Violet Delights 
½ oz Liber & Co grenadine
1 oz lemon juice
2 oz Empress gin (must use for the color)
Fever Tree Club soda
Fill a highball glass with ice, add grenadine, lemon juice, gin, top with soda water and a cocktail cherry.
---
Kitchen Witch Smash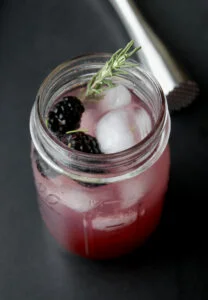 Mezcal is the star this week for a spooky smoky cocktail.  This one is a little extra work but will be worth it!  For an extra witchy vibe, repeat a mantra or set some good intentions while you muddle your ingredients.  Or hex someone, we won't tell.
8 fresh blackberries, plus more for topping
1-2 teaspoons fresh rosemary, plus a sprig for serving
Juice from half of a lemon
½ oz Código Agave Nectar
2 oz Lu Luna Cupreata Mezcal
a couple dashes of Regan's Orange Bitters
Fever Tree Club Soda
In a mixing glass, add blackberries, rosemary, lemon juice and agave nectar. Muddle the ingredients together, squishing everything to release the juices.  Add ice, along with the mezcal and orange bitters.  Stir for 20 seconds and strain over ice into a mason jar. Top with club soda and garnish with fresh rosemary and blackberries.
---
Phantom Vehicle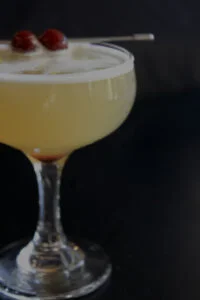 By now you probably have some apple cider sitting in the fridge ready for a new spin.  Here's a fun fall take on the classic sidecar.  If you're feeling adventurous, try this warm during your next chilly evening by the fire.   Or if you're feeling lazy, simply warm up the apple cider, add cognac, and top with whipped cream for an easy treat.
2 oz. fresh apple cider
2 oz. Pierre Ferrand 1840 Cognac
1 oz. Cointreau
1 oz. fresh lemon juice
Lemon peel and Griottines brandied cherries, for garnish
Add all liquid ingredients to a cocktail shaker, top with ice, and shake until the shaker starts to frost and feels very cold to the touch (20 to 30 seconds).  Strain into a coupe glass and top with zest and brandied cherries.
---
Cachaça Zombie 

Trick or treat!  What's this new creature at your door?  It's cachaca, a Brazilian liquor made from distilled sugarcane juice.  This cousin of rum is a little funky and earthy and makes for a great cocktail.  But don't worry, after a few of these you'll be the fun kind of zombie not the brain eating kind.
2 oz Novo Fogo Silver Cachaça
1/4 oz Pierre Ferrand Dry Curacao
1.5 – 2 oz On the Fly Tropical Cocktail Mixer
1 dash Angostura or Bittercube Trinity
Absinthe rinse (optional but recommended)
lime wedge and mint sprig, for garnish
Combine all ingredients in a cocktail shaker with ice. Rinse an oversized whiskey tumbler with absinthe, add crushed ice, and pour in your strained cocktail.  Garnish with a lime wedge and mint sprig.
---
Spooky Sangria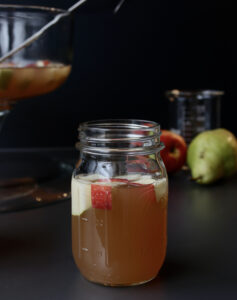 You probably still have some apple cider; we all make the same mistakes every fall, nobody is perfect.  So here's a great recipe to share with your ghoul and goblin friends at your haunted gatherings.  Use up that cider and that dusty bottle of pinot grigio you never got to in the summer, and bring the shenanigans to the party!
1 bottle pinot grigio
2.5 cups apple cider
1.5 cup Schweppes Club Soda
.75 cup Velvet Falernum liqueur
3 honey crisp apples chopped
3 pears chopped
Combine all ingredients in a punch bowl, stir, and chill for one hour before serving.