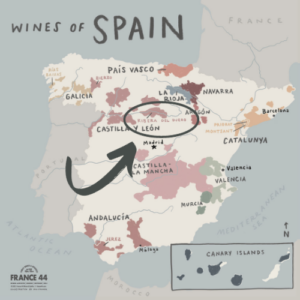 One of the most iconic and prestigious wine regions of Spain is Ribera del Duero. Ribera del Duero is located in Castilla y León, about a 2 hour drive northwest of Madrid (central Spain). Castilla y León is home to more than 300 medieval castles dating to the eighth and ninth centuries and the Duero River runs through the region and winemaking dates back 2,000+ years. The Ribera del Duero region is home to the Spanish king of red wine: Tinto Fino, a local name for the Tempranillo grape. If you've wandered down our Spanish wine isle in the store, you'll know that the vast majority of Spanish wines are red, and the vast majority of those Spanish reds contain some amount of Termpranillo. 
Ribera del Duero's soil is made of chalk, stone, and clay. The temperatures shift greatly throughout the day due to elevation, and over a third of the vines in the region are over 45 years old. Most of grapes in the region are hand harvested. These factors lead to wines that are full bodied, intensely flavored, and high in quality. Ribera del Duero wines are known for their strong, dark color and dark fruit, tobacco, and vanilla flavors. Below are some recommendations for a great introduction to the region.
Protos Winery dates back to 1927, when 11 winegrowers in the Ribera del Duero region came together to establish the wine region. Their Tinto Fino wine is deep ruby in color, with balanced acidity and just the right amount of oak coming through. It's a great, approachable introduction to the wines of Ribera del Duero.
Viña Sastre is a family-run winery in the Ribera del Duero region. They're famous for their old-age vines, ranging from 20-65 years of age. This wine is made from 100% Tempranillo grapes and is fermented with native yeasts. The wine shows aromas of red and black berries, and peppery spice comes through on the palate. It's a big, rich red, perfect for holiday meals and celebrations. 
The Psi Ribera del Duero has an inviting and expressive nose of blackberry and spice. Its complex, concentrated fruit flavor is followed by soft tannins and bright acidity. 
The Cepa Rosado is the only rosé of Ribera del Duero that we carry here at France 44. The rosado has the color of a summer sunset, and aromas of Barlett pear, apricot and Stargazer lily. Floral notes open on the palate and fade as ripe summer peach, cantaloupe, passion fruit and vanilla take hold and sail into a refreshing finish. Pair this with fish or cured meat! 
The Cepa 21 Tempranillo has some spicy and smoky notes from the élevage in oak, which gives it a showy profile. It's ripe without excess with a sweetness of fruit that coats the palate and makes it a bit jammy. There are plenty of tannins to stand up to food – the wine would pair beautifully with rich, red meats. 
Just miles from the Ribera del Duero region is the Rueda region, and we wanted to point out one Rueda wine for all the white wine drinkers out there. In the Vina Sastre Flavus Rueda, Dark berries punctuated with Thai basil and cocoa establish a deep dark core. The wine has a surprisingly refreshing palate, like biting into the juicy red center of a ripe peach, which offsets spice and a medium body & structure.