by Karina Roe
HYGGE (HUE-ga) // the feeling of coziness and contentment evoked by simple comforts, as being wrapped in a blanket, having good conversations, enjoying food, etc.
I hate to be the one to break this to you, but it's the weekend before Christmas. We've officially marked the transition from "thoughtful shopping" to "frenetic shopping." There are no more "free evenings" on our calendars. Those quiet moments in your brain? They're not coming back until January.
And yet, this is exactly the time when we need those quiet moments—the most hectic time of the year. The most stressful hours are when we need to be kindest to each other. That extra breath that you think you can't afford yourself has never been more essential.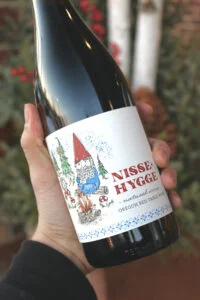 I've written about Leah Jorgensen's wines a time or two before. I don't need to expound more on my love for her, but I do need to tell you about her solution to give you a few quiet moments back: the 2019 Nisse + Hygge Red Table Wine.
This wine was literally born from ashes back in 2017 for Leah. 2017 will forever be known as the Year of the Wildfires that raged across too much of California and Oregon. (What we didn't know, of course, was that that level of destruction would repeat itself every year after that. Climate change is a jerk.) Leah had some smoke taint in a few of her Cabernet Franc batches, and to save the precious juice she decided to blend it with some Gamay to make a seasonal release—something akin to a Beaujolais Nouveau that had a quick fermentation time, bright fruit flavors, and a "drink-now" personality to it. Her one-off experiment was an instant hit, and has now taken on a deeply committed following and a life of its own.
Today, Leah makes Nisse + Hygge as a fundraiser for wildfire prevention. It tastes both wild and warming, with dark berry flavors and gentle violet notes. It's comforting, but it's also just complex enough to keep you engaged and going back for another sip. Leah says that this wine is "intentionally untamed and meant for immediate enjoyment," and she recommends it with traditional Scandinavian cuisine like Swedish meatballs, cheeses with lingonberry and rye crackers, and even some smoked fish to bring the Hygge home.
This is the gift you need to give yourself this holiday season: a bottle of Nisse + Hygge, a fuzzy blanket, and space to share a few elusive quiet moments with someone else who needs it too. Let go of the shopping lists for the night. Turn off your damn phone. It's okay to put life on hold for one hour while you take care of yourself and the people you love.
Happy Holidays, and Long Live Hygge. ♥