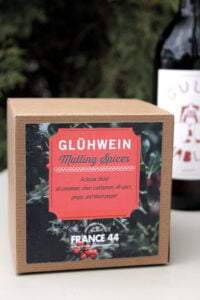 Despite having been born and raised in Minnesota, I'm a baby when the cold weather hits. It's not an unusual sight to see me in a turtleneck with a sweater on top (I've even been known to layer my jackets…), and I'm a big fan of long johns and wool socks this time of year. No matter how many layers I pile on, though, there's nothing quite as warming as a steamy mug of mulled wine – and if you've ever wandered the Christmas Markets of Europe or elsewhere, you know this to be true.
Mulled wine has been around pretty much as long as wine has, which is to say, almost forever. It started out as a way to avoid waste – Romans and Greeks were recorded as early at the 2nd century for adding spices to bad batches of wine in order to make them more palatable, and in the cooler months, heating it up as a way to keep warm. As the Romans spread and conquered, they brought with them "Conditum Paradoxum," a mixture of wine, honey, pepper, bay leaf, saffron, and dates.
By the Middle Ages, it had become a wildly popular beverage for two reasons: one, most of the water wasn't potable, so people were drinking beer and wine in its place. Two, spiced wine was believed to promote health and avoid illness (a big concern in the wake of the Black Plague, rela). Even royalty was known to enjoy a hot cup of wine or two, with King Henry III of England, Count John IV of Germany, and King Gustav I of Sweden all citing it as one of their favorites. When Christmas Markets popped up in the late 1800's, mulled wine morphed from the more bitter recipes of the past into the warm, spicy ones we know and love now and quickly became a staple. Today, booths at the markets continue to offer their own distinct recipes.
While the most recognized recipes are a blend of red wine, brandy, cinnamon, citrus, and sugar, recipes are pretty variable depending on where you are, with the types of spices, bases, and fortifying spirits changing depending on culture. In Alsace, white wine (usually Riesling or Pinot Blanc) is swapped for red wine, and star aniseed is a key spice. In Scandinavia, vodka, gin, or akvavit are often used in place of brandy, and cardamom joins the spice blend. In Poland, hot beer is used instead of wine. All to say, it's a pretty forgiving beverage, so as you make your own mulled wine (or beer, or cider!), you can play with the recipe as much or as little as you want to make it your own.
As far as the spices go, we did the work for you and put together a mulled wine kit (wine sold separately) to help get you through the impending doom that is winter in Minnesota. Each kit contains three sachets of our house spice blend, plus a tried-and-true recipe card to make a traditional batch of glühwein. What you use to fortify is entirely up to you, but might we suggest a liter bottle of Gulp Hablo Garnacha to get the base going?
France 44's Mulled Wine
1. Place mulled wine sachet into a medium sized pot with 1 liter of red wine and ½ cup of brown sugar.
2. Using a sharp knife or peeler, peel half of one orange and half of one lemon, avoiding as much of the white pith as possible. Place in pot.
3. Juice 1 orange and add to pot.
4. Overmedium heat, warm the mixture, stirring until the sugar has dissolved and the liquid is just steaming, then reduce to a low simmer. Continue heating for 30 minutes, allowing spices to infuse.
5. Stir in 1 cup of spirit of choice, or 2 cups of tawny port.
6. Strain, garnish with orange wheel and/or cinnamon stick, and serve in heat-proof mugs or teacups. 
Yields 6-8 servings.  
*For a more or less sweet mulled wine, simply adjust the amount of sugar added accordingly. Sub agave or honey for an alternative sweetener.